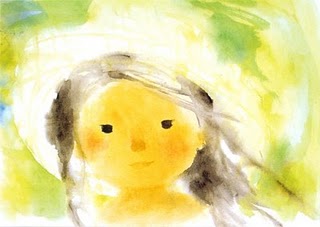 Girl in Green Wind, by Chihiro Iwasaki
Image by Chihiro Art Museum
In the midst of the tragic floods in Pakistan, we have all been seeing some pretty graphic images on the television.   People, homes and rickshaws are half-immersed in water, and the grief-stricken survivors look utterly dejected helpless.  The news and the visuals can rattle even the most stoic adults.  But what about the kids?
You may be tempted to explain what's going on to your kids – perhaps in the interest of having them be cognizant of the world around them and empathetic to those affected by the disaster.  Maybe we should have then pen a little note to an aid organization.  Is this a good idea?  Or do we shield our kids from such news and let them relish, for a while longer, the innocence that is childhood?
It seems, as with all things, the answer depends on your child.  Some children by nature tend to worry more and need firm reassurances that that this will not happen to them.
Here are some perspectives and dialogues: 
Dr. Anita Gurian, NYU Child Study Center – Talking to Kids About World Natural Disasters
Sesame Street / Sesame Workshop  – Helping Children Understand Natural Disasters (followed by an interesting discussion by some parents)
Parenting.com – 5 Tips on Talking to Kids About Scary News
And please, send your thoughts, wishes and whatever else you can to Pakistan.