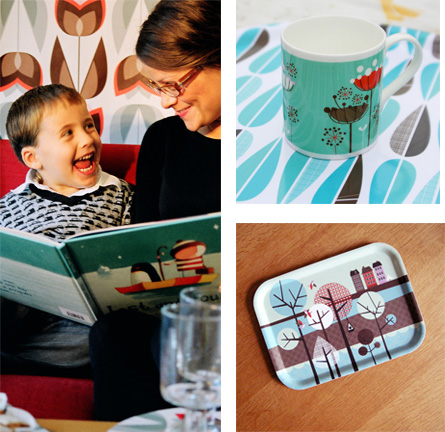 Images by Sandra Isaksson for ISAK

We're kicking off New Products Week with the very talented Sandra Isaksson – designer of our stunning Alphabet Posters.  Sandra has desgined graphics and illustrations for major US retailers and for Bookbinders Design.  Originally from Sweden, Sandra lives in south England and takes on design commissions from clients all over the world.  She  is also founder and head designer of scandi brit fusion brand ISAK where she creates "beautiful happy things" for the modern home.  Sandra now brings her unique Scandinavian style to gnaana for the first time!
When I approached Sandra about designing the Alphabet Posters, she said she was very excited to be working with "such beautiful – and unknown – characters."  When I viewed her portofolio, I immediately thought her colourful, kitschy and modern graphical style would be an interesting contrast to the more ornate letters of the Indian alphabets – a blend of the past and the future (as with all things gnaana, of course). 
Here is Sandra, in her own words:
1.  What interested you most about the project?  The beautiful characters of languages that I had no knowledge of.
2.  What was the most challenging aspect of the project?  To get the illustrations and characters not to override each other, to give them both equal space.
3.  Regarding the finished product – what's your favourite part?  I love the eyes of the animals and the elephant.
4.  You have a great webstore of your own – what are some of your most popular products?  Everything is selling well but wallpapers are exceeding our expectations and our lidded cups have completely sold out long before we had time to have new made.
5.  What's the most important thing you keep in mind when designing a product for children?  That there's a sparkle of fun shining through!
So why Alphabet Posters?  While our Alphabet Blocks are an important tactile tool for kids learning their native akshara, it was clear that parents wanted more language products.  I wanted to create a high-end art poster that would show off the beauty and grace of the Indian alphabets – a poster worthy of any wall of the modern home, be it a kids bedroom, a playroom, a kitchen or a family room (and a bright and cheery alternative to the bland posters sold in roadside Indian bookstores).  It would be a constant visual stimulous that kids could stare at, or parents could laminate it and use it for various floor and table exercises.  Very versatile indeed!
Here's how the project evolved.  We started with a concept of illustrating each and every askhara with a corresponding object, but this proved too visually overwhelming and monotonous, given the size of the poster and the large number of characters.  We then had this idea to vary the size and spacing of the alphabets, like this: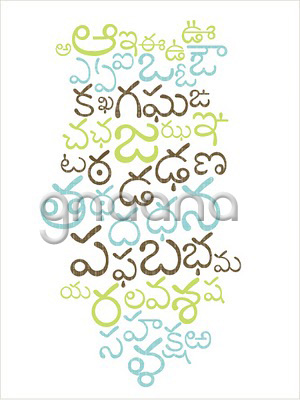 While this version was stunning and modern, I missed having the illustrations as important visual clues for kids.  So we went back to the drawing board, keeping the standard lines, but this time we varied the size of the characters in each row (according to the relative "popularity" of the character) and only used some of the illustrations.  We used a very neutral colour palette, inspired by today's popular letterpress designs: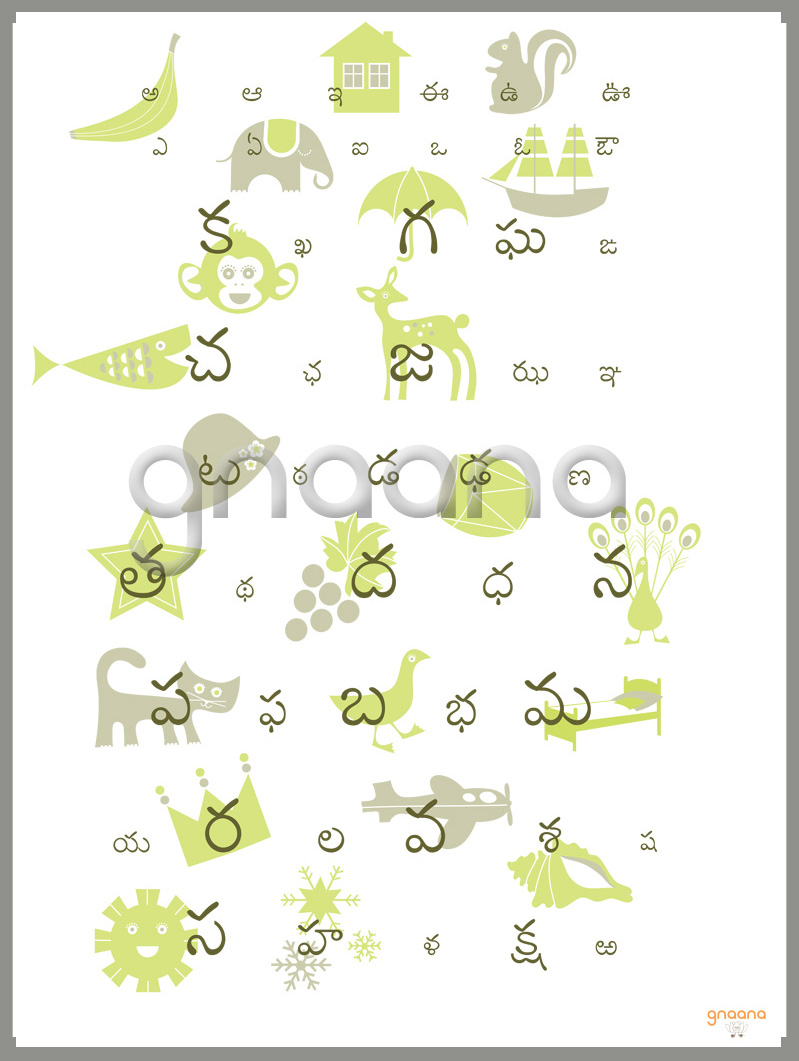 However, this colour palette wasn't exciting to the kids we showed it to.  So we decided to make things more colourful – using retro vintage-inspired colours of yummy tangerines, aqua and lime.  So here it is – Ta Da!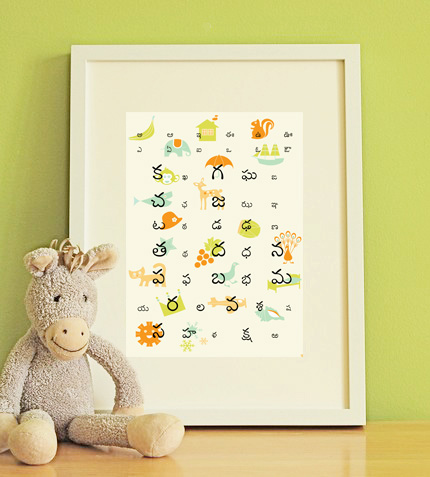 The posters will be available in Hindi, Gujarati, Kannada, Tamil and Telugu and are sized at 13 x 19 inches, to fit standard frames available at local stores.  They'll be priced at a very affordable $20.00 for US customers and $25.00 for the rest of the world (price includes shipping).  Posters will be available at the beginning of October.
Thank you, Sandra!  I hope your art inspires children of the global South Asian diaspora!
You can learn more about Sandra at www.sandraisaksson.com and view her webshop at www.isak.co.uk. Her blog is also a visual treat!