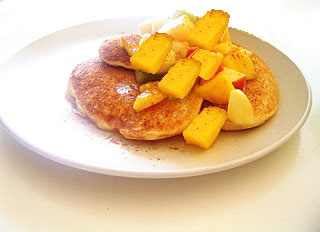 We're savouring the tail end of the mango season.  Here's a yummy way to start your morning and finish off some of those mangoes you may have lying around.  Flavoured with vanilla and just hint of cardamom, they're good enough for tea time also.
If you don't have fresh mangoes (or if you're not really a morning person and don't want to deal with cutting and peeling mangoes) you can substitute canned mango pulp.  Just cut down on the sugar if it is sweetened and also lessen the amount of milk.
For the flour, I use King Arthur's White Whole Wheat Flour – you get the fiber and nutrition of whole wheat without the heavy flavour.
Ingredients:
1 1/4 cups flour
3 Tbs. sugar
3 tsps. baking powder
1/4 tsp. ground cinnamon
1/4 tsp. ground nutmeg
1/4 tsp. ground ginger
1/4 tsp. ground cardamom

3/4 tsp. salt
1 1/4 cups skim milk
3/4 cup peeled, diced and crushed mango
4 large eggs, beaten
1/4 cup (1/2 stick) butter, melted
1 tsp. vanilla extract
fresh mango slices + maple syrup
In a large bowl, combine and mix all the dry ingredients.  Add the wet ingredients and mix well until batter is smooth  – adding more milk if necessary.  Prepare pancakes on skillet or griddle.  Top with fresh mango and maple syrup.
Yields about 12-15 medium-sized pancakes.
Tags: recipe