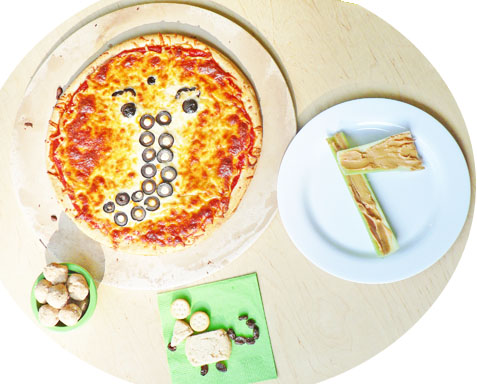 Ganesh Chaturthi falls on Saturday, September 11 this year – and given that it's on a weekend, what's your excuse for not celebrating the birthday of our pot-bellied pal?
We all know that Ganesh LOVES to eat, so what better way to honor him than with food!  Here's a tasty snack-time project that's hands-on fun and learning for the kids:  a Ganesh pizza (using olives) surrounded by things that define him – a bowl of sweets, his mouse-vahana (made with biscuits and raisins) and an axe (made with celery and peanut butter).  Be sure to explain to the kids the symbolism behind the objects.
Sweets – A symbol of what he loved most, and blessings for his devotees (metaphorically speaking they are a symbol of moksha/liberation – the sweetest of all things).
Mouse – The humble (and brave) creature that carries him – his vahana (mode of transportation).
Axe – Ganesh uses this to help clear obstacles.
Pot Belly – A symbol of nature's plentifulness.  Some also say it represents how Ganesh swallows the sorrows of the world, thereby protecting it.
Elephant Head – Elephants are large, strong and powerful, yet gentle (they're vegetarian) and superbly smart.  Befitting, no?  (Also, when viewed at a profile, along with his ears, Ganesh morphs into the "AUM" symbol.)
And if you can muster up the energy, here's the very simple Ganesh Mantra  (audio here):
Vakratunda Mahakaaya, Surya koti Samaprabha:
Nirvighnam Kuru me deva, Sarva karyeshu sarvadaa.
Oh, Lord Ganesha, of large body and curved truck, who shines with the lustre of a million suns, please make my life and my work free of obstacles – forever.