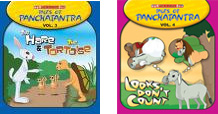 If you're tired of Elmo or Dora or whatever you play during video time, give Panchatantra videos a try.  As a follow-up to my previous post, the Panchatantra are a series of animal stories intended to teach principles of neeti ("wise conduct of life").
There are several companies that have put out video series of the stories (although you won't find them on Amazon, so you'll have to do some web-digging).  The series that I like is put out by a company called Shethia  – they call the series Fun N' Learn Tales of Panchatantra.  I like the way the stories are set-up.  There are 7 kids who appear in all the episodes, and at the beginning of each one someone is always troubled by an event in their lives (e.g. Pete is boasting about his shiny new toy boat and makes everyone else feel bad about their more modest ones).  They call for Vaayu (a 30-something man who assumes a teacher role), and he tells the kids a Panchatantra tale (in Pete's case it's The Ant and The Grasshopper).  Everyone learns a lesson, and they all go home.
Of course, keep in mind these are "Indian" productions.  Gobby tells Molly to "shut up" in one episode – but that was the only slip I noticed.  The animation is watchable (it's slow, but great for kids under 5) and the Indian accents are really cute.
We pulled the plug on cable TV about 4 months ago, so these videos have been on heavy rotation when the kids want to watch something.  We have volumes 3, 4 and 5; unfortunately, these don't seem to available anywhere outside of India (we picked them up when we were living in Bangalore a few years ago).  Volume 6 and Volume 7 (the latest in the series it seems) are available.  I haven't reviewed those, but I presume they are set-up the same way.