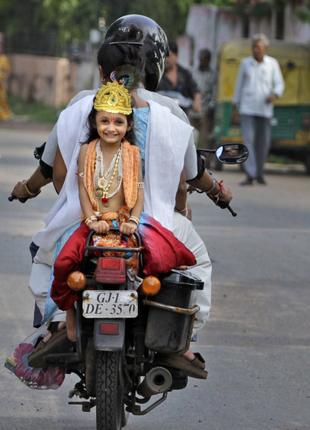 A child dressed as Krishna rides on a motorcylce with her family in Ahmedabad.
It's the birthday of Hinduism's favourite child – Lord Krishna – and the celebrations have already begun.  Janmashtami falls on September 1 and September 2 this year (depending on your beliefs), and there are functions and events being staged wherever you are in the world (check with your local temple or ISKCON organization).
Lord Krishna is perhaps the supreme embodiment of joy and hope – and the legends and tales of his birth and childhood antics are a source of inspiration to children and adults alike.  We leave you today with a slideshow of heartwarming pictures published by The Hindu (one of India's leading newspapers).  From Ahmedabad to Mathura to Katmandu, Nepal, these are real-time snaps that radiate the joy of Sri Krishna's birthday. View them with your kids.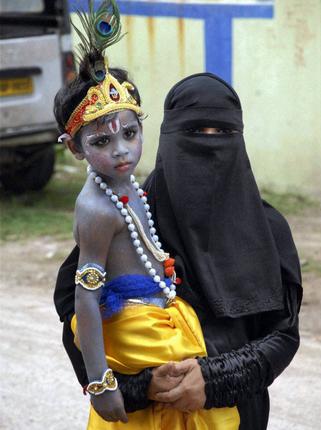 A Muslim woman carries her son, dressed as Lord Krishna, for a school function in Patna.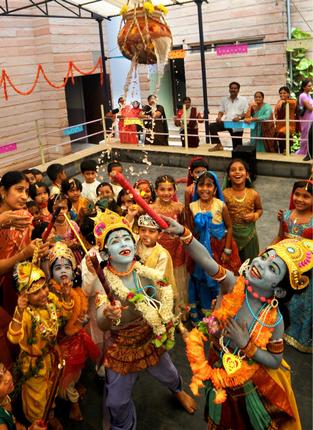 Children dressed as Krishna and gopikas vie  for a pot of butter as part of the
Janmashtami celebrations at a school in Visakhapatnam.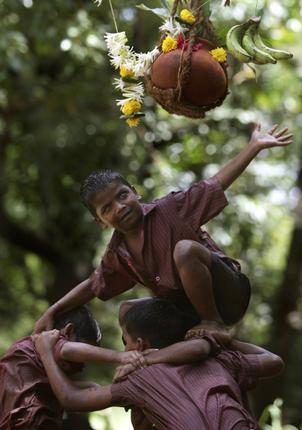 A visually challenged child tries to reach the "Dhahi Handi" (an earthen pot filled with curd)
during Janmashtami celebrations at a school for the blind in Mumbai.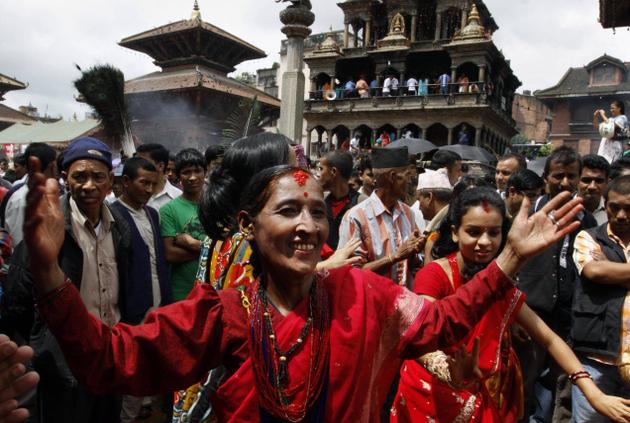 Hindu devotees dance and celbrate at a Krishna temple in Katmandu, Nepal.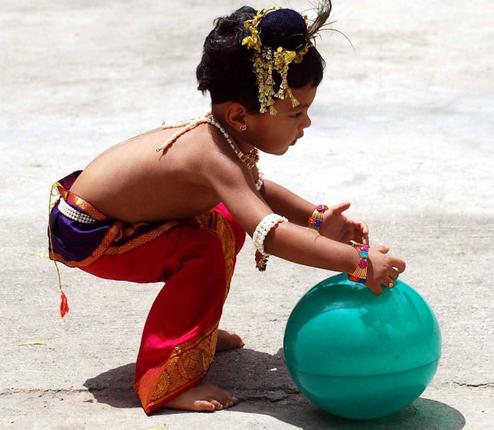 A child dressed as Krishna plays with a ball outside his house in Khammam, Andhra Pradesh.
Images by The Hindu.  For more pictures and the full slideshow, click here .