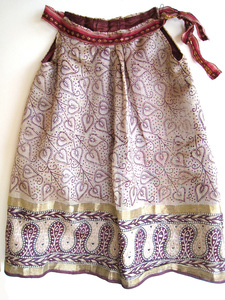 Yes, of course, sarees are beautiful – timeless and classic.  But some sari styles DO go out of fashion.  So what can you do with those sarees that take up valubable real estate in your closet – the ones you will likely never wear again?  Upcycle them into dresses and outfits for your kids (or yourself)!
We've pictured some ready-made styles available for purchase, but sarees can be made into virtually any dress style.  Collect some pictures of dress silhouettes you like (or maybe even purchase some patterns at a fabric store), and take your saree (and your daughter) to a local tailor.  You'll want to call ahead and see if the tailor is willing to do a custom dress – but most tailors these days won't refuse the work, and you may be surprised at how affordable it can be.  For around $50.00 – $80.00 you could have a custom-tailored, one-of-a-kind outfit worthy of a designer label!  (Of course, if you can wait until your next trip to India, you could save $$$ off the price of tailoring – but then again, the tradeoff is that you'd have to spend valuable time visiting the tailor).
Pictured above:  Monsoon Sari Dress, $48.00.  Below, Pink Lemonade Sari Dress, $48.00.  Both by Little Bit.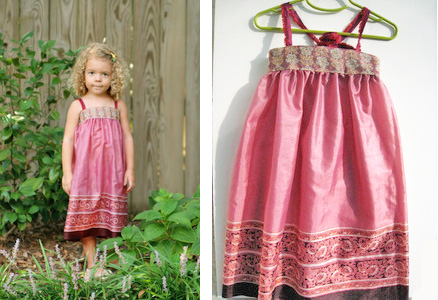 Below left, Girls Sari Sun Dress, £12.00.  Below right, Recycled Sari Shorts, £8.00.  Both by People Tree.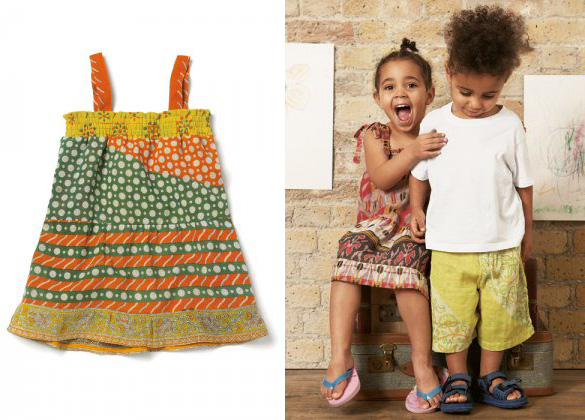 Below left, dress made from Indian sari by Magpie Made (custom tailor).  Below right, Recycled Sari V-Dress, £30.00, by People Tree.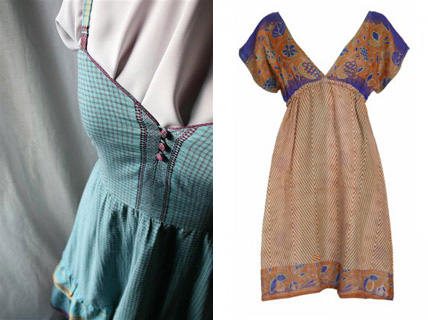 What about a sari jacket?  Below, Light Quilted Jacket made from recycled sari, £178.00, by Sari Couture.  Sari Couture is a company dedicated to upcycling sarees into chic clothing and accessories, with a portion of their sales going towards helping underprivileged children.  What a concept!