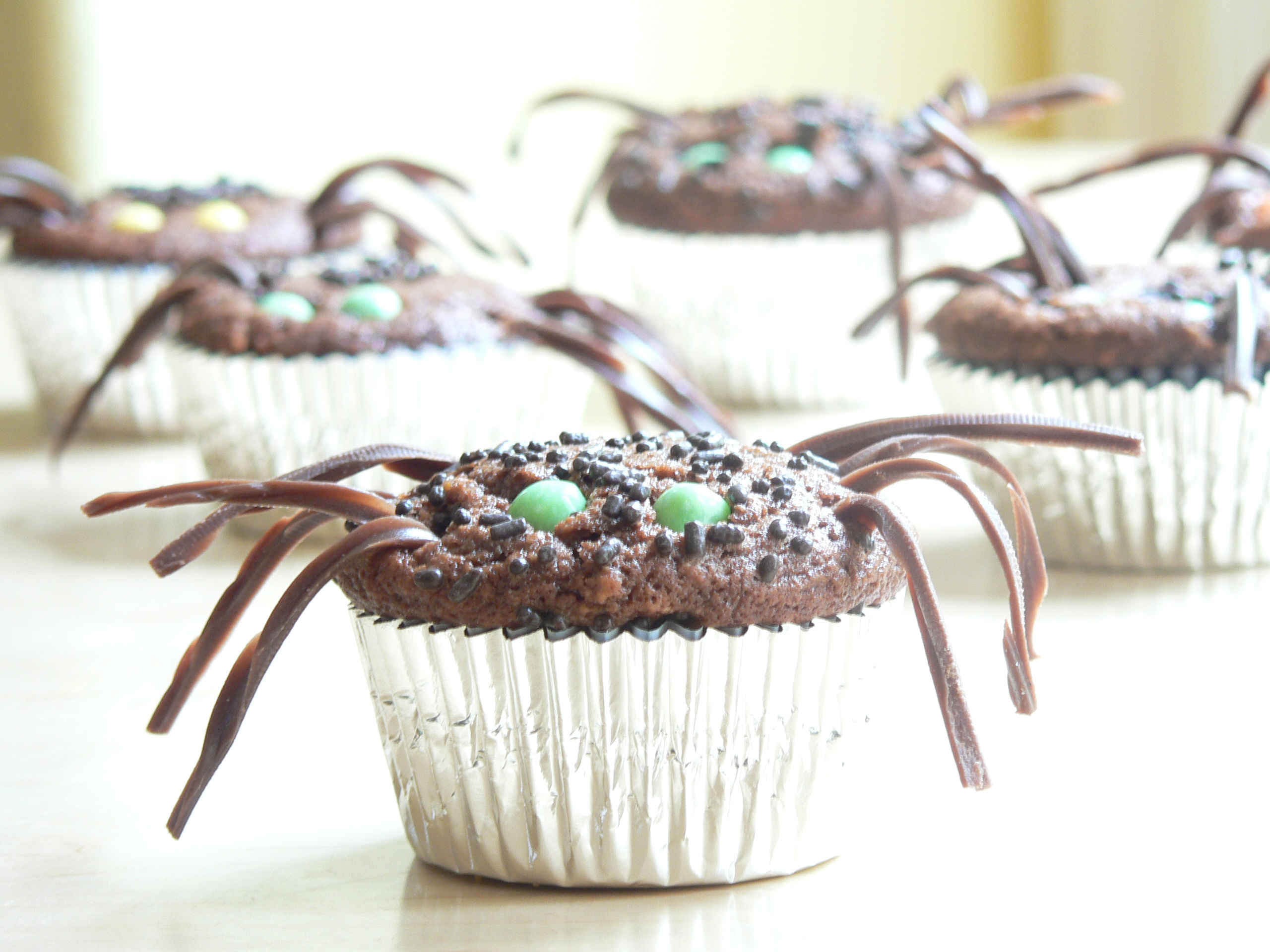 I made these spider cupcakes for my son's birthday back in April (he's been into spiders for over a year now).  One of the little girls in his class was actually too scared to eat hers, poor thing.  We re-made the cupcakes last week, which were a big hit again with the class, and we still managed to scare a few.
So in honour of Halloween, there's been much talk this month about bhayamu (fear, fright), and a whole lot of other ghoulish things we've been labeling with Telugu vocabulary:
ghost = bootham
spider = saale purugu
bones = bomikalu or emukalu
goblin = dayyam
random scary monster = boochi
pumpkin = gummadikaaya
Haven't come up with one for "witch" yet, though my daughter calls them "scary ammai (girl)."  Or vampire.  Anyone?
If you'd like to come up with a word list in your own language, try the truly wonderful Digital Dictionaries of South Asia (by the University of Chicago) or Shabdkosh – very easy to search in English.
And here's the recipe for the spider cupcakes – they seem decadent, but are actually (relatively) healthy.  Instead of frosting, I just sprinkle chocolate jimmies on top of the cupcakes after about 10 minutes of bake time (to let them set in).  I used small candies for the eyeballs and chocolate Twizzlers for the "legs" (you can also use string licorice).  Enjoy!
Ingredients:
1 3/4 cups flour
(I use "white whole wheat flour")
1 1/4 cups organic sugar
2 1/2 tsps. baking powder (aluminum free)
1 tsp. salt

2/3 cup skim milk
2 eggs
2 square unsweetened bakers chocolate
1/3 cup butter
1 Tbs. honey
Mix the dry ingredients in column 1 together.  Melt the butter and the chocolate in a small saucepan. Let cool for 5 minutes, then add to to the dry ingredients, along with the rest of the liquids.  Mix well.  Divide into 12 cupcakes liners and bake at 350 degrees for about 20-25 minutes.
Yields 12 cupcakes
Tags: recipe