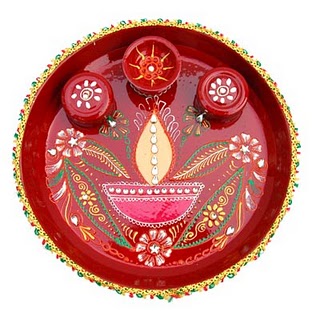 No Diwali is complete without a Puja (or Prayer) Thali. It holds all the auspicious materials for the Diwali prayer ceremonies.  Puja Thalis are also fun for the kids to decorate – with fabric, beads or other craft items.  Our November Newsletter, due to be released next Monday, will guide kids through the steps of a puja, so get your thalis ready!
What you place on your thali will vary based on the specifics of how your family conducts a prayer, but in general, you will want to include:  a small deity (Lakshmi perhaps), a diya, a bell, a small steel glass with a spoon to hold water, an incense holder, fresh flowers and small vessels to hold kumkum, rice and prashad.
Pictured at the top of this post, stainless steel pooja thali adorned with meena work, available at IndianGiftsPortal.  This site has a good selection of thalis.
For a more contemporary stainless steel look, try Pooja Thali Gift Set by Nikki (left) or Puja ki Thali by Artec (right).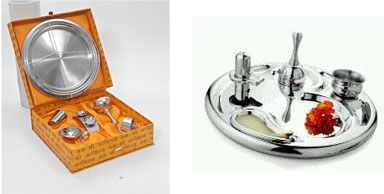 Beautiful Meenakari Peacock Thali: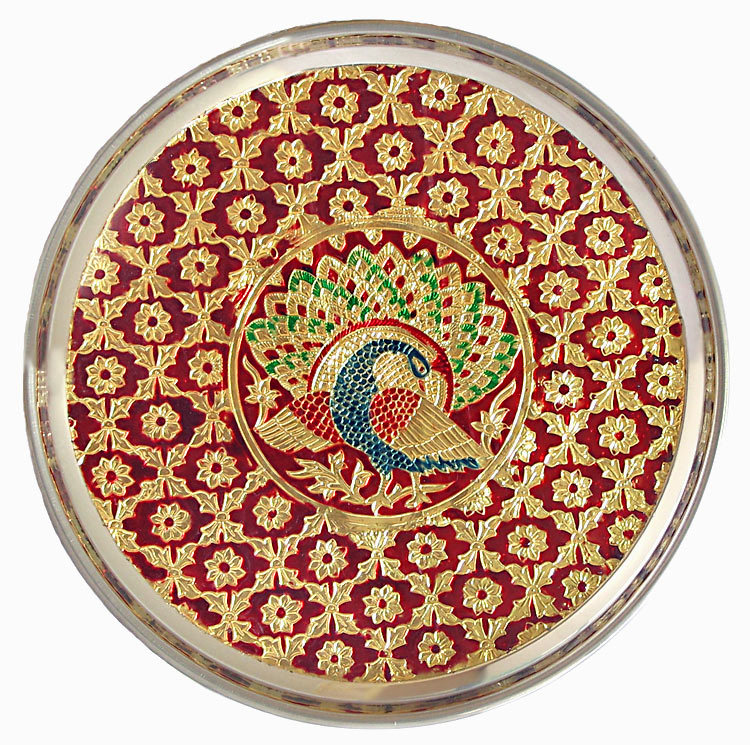 If traditional is not your thing, go ultra modern with a little innovation – take a designer platter and use a selection of tealight holders that please your aesthetic.  Allmodern has a good selection of platters.  Below, stainless tray decorated with cabochans by Alessi, paired with a red glass tealight holder.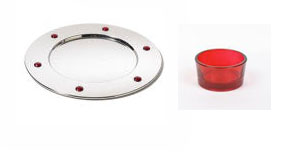 For a natural, organic look,try Khaki Round Platter by Mikasa (below left).  For a kitschy, retro appeal, try Arabesque Platter by Dansk.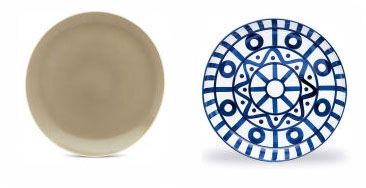 Tags: Diwali