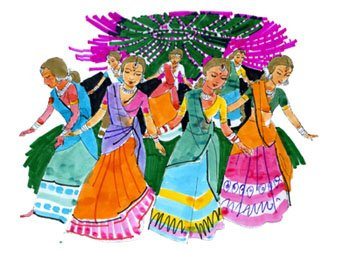 Maybe you already know how to 'do garba.'  Maybe you don't. Either way, push the furniture aside, pop in a CD and teach the kids this spectacular folk dance.  Get up and garba!
Garba and it's companion dance – Dandiya (performed with sticks) – are two forms of raas that are popular in Gujarat.   Recently, classes and camps have been sprouting up all over India (and the rest of the world, for that matter) that teach people these dances.  It seems that everybody wants to learn!  Here is a wonderful 25-minute instructional video from NDTV that will teach you and the kids the most common steps of garba.  It's in Hindi, but dance has no language, right?
Did you know that the word garba comes from the Sanskrit term for "womb" (spelled the same way)?  It is very befitting then that this dance is commonly performed during Navratri – the 10-day, 9-night celebration of womanhood.  Traditionally, women (and now men) danced around a garba deep – a small lamp that symbolizes 2 things:  the womb as the root of all humanity and also Goddess Durga, the embodiment of divine feminine power – Shakti –  who is the central figure of the Navratri celebrations.  At its deepest level garba is actually a form of meditation, as the dancers revolve in a circle – as per the Hindu view of time.
Of course, no discussion of Navratri and garba is complete without also talking about dandiya.  Children may be interested to know that the dandiya sticks symbolize Goddess Durga's sword.  So when they are playing dandiya with a partner, it's as if they are fighting with Mahishasura himself – the demon that Durga was created to destroy.  Take that!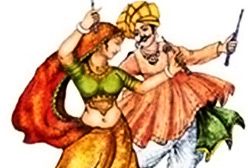 For more on Navratri, check out our Storybook Pyramids we featured last year – an art project for kids that illustrates the meaning of Navratri.
Images by Google Images