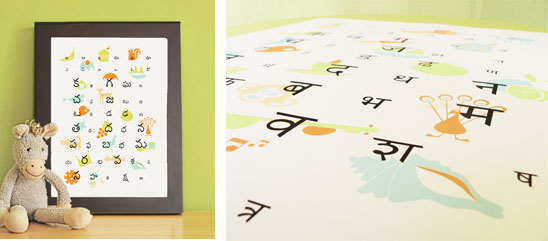 Many of our new products are up! Our Alphabet Posters by Sandra Isaksson went live just yesterday, so be sure to check them out. Wonderfully engaging for kids, and a beautiful, modern design to please adults. You can frame them (of course) or you can mount them on foam board or laminate them – a great way to use them as work boards! And we're offering free shipping worldwide!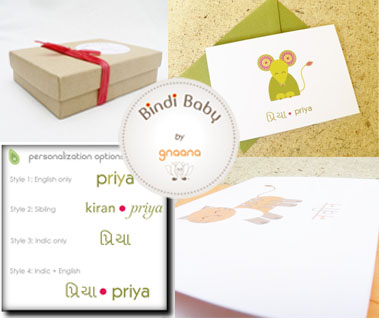 We've also launched our Bindi Baby Personalized Stationery –  a great way for kids to show off their global style!  Available for personalization in our standard languages (Bengali, Gujarati, Hindi, Kannada, Tamil & Telugu).  We can also take special requests for Punjabi, Malayalam, Marathi & Oriya.  Check out our Prints & Stationery page.  (Wall prints are coming soon).  Available for order through the new Gnaana Etsy Shop!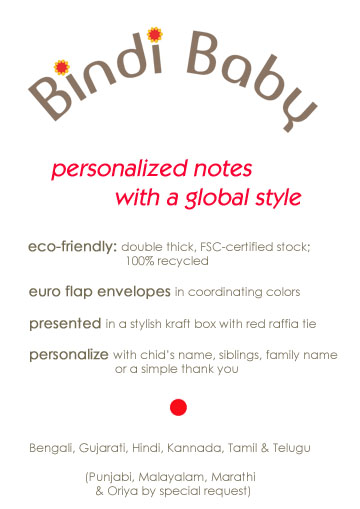 And if you haven't heard, our Handmade Books and new apron designs & adult aprons have been up for a while.  The Bindi Baby books are almost done.  The Bindi Baby Animals books will be available the week after Diwali, with Bindi Baby Numbers after Thanksgiving. (**UPDATE:  Bindi Baby Numbers is to be released Sping 2011).
Tags: Alphabet Posters, Bindi Baby Animals, Bindi Baby Books, Bindi Baby Numbers, Bindi Baby Personalized stationary