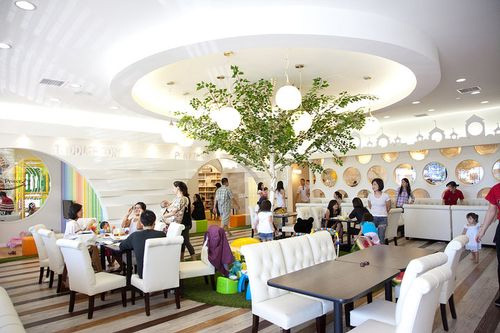 Sounds like a fairy tale, right?  Well, it is…for parents.  As in The Little Prince Kids Cafe – a playhouse where kids are entertained by Cafe staff and parents get to enjoy lunch, tea and a few chapters in a good book.  An ingenious concept.
They are popular all over Korea and seem to be popping up in random parts of the world – Paris, Tel Aviv and in Buena Park, CA (just outside Los Angeles) – the only US location which happens to be about 10 minutes from my house (lucky me!).  I took my husband there last weekend and he is ready to buy stock.
So it goes like this:  all patrons must take their shoes off in the entry foyer.  Adults are given santized slippers and kids go barefoot – a no-nonsense Asian approach to keeping the place pristinely clean.  By the time you take your first blink, the kids are squealing with excitement and are off to play.  Parents are seated in plush white leather chairs and order food and drinks at their leisure.  They get to keep an eye on the kids via TV screens that broadcast the action in all the major play areas.  There are Cafe attendants in the play areas to entertain and play with them – so odds are you won't even see your kids for 2 hours (unless they need assistance in the bathroom or want a sip of their complimentary organic apple juice).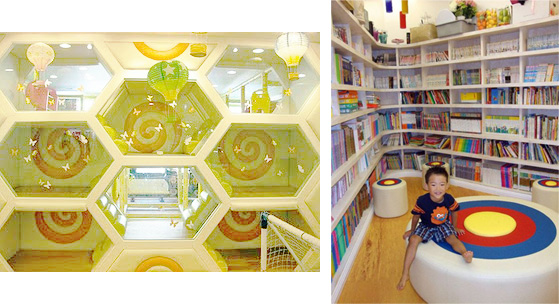 In addition to their signature honeycomb climbing structure (which, according to one of my Korean mom-friends, is exactly what all the Korean cafes have), they have a wooden toys, dress-up outfits for make believe play and a HUGE reading room filled with Korean (and some English books).
All you pay is $8 per child for the first 2 hours and whatever food and beverage items you purchase (it's Korean fare, but yummy just the same – with vegetarian options too).  A piddly price for a few hours of sanity, I'll say.
If you're in the Los Angeles area, check it out.  Korea certainly can teach us all a thing or two about community play.  Imagine if we could have places like this for Indian kids!
Images courtesy of Yelp and KOKOliving.