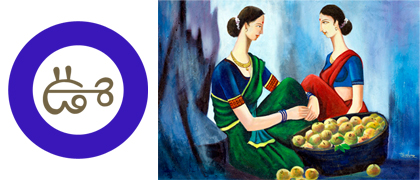 ooTa is the Kannada word for "food" and, in combination with the Telugu word thinu ("eat!"),  it is probably the all-time most used phrase in our household.  The cute-sounding word covers everything from breakfast and lunch to snack and dinner and is even more adorable when uttered sweetly by the kids.  So naturally it's our go-to word for the letter "oo."

On the subject of ooTa, I recently saw The Future of Food – a documentary by Deborah Koons Garcia about genetically modified foods.  It proved to be a brilliantly informative polemic against the dangers of agribusiness and the corporations that seek to profit from GMO crops.  Garcia explains how GMO crops are produced (often by the use of viruses and bacteria), what the international community thinks of them (the EU bans most of them and has strict labeling laws), what the US government is doing about them (not much – not even in terms of requiring labeling) and what's at stake for the future.
Interestingly, the catalyst for all of this was an Indian man by the name of Chakrabarty, who won a U.S. Supreme Court case in 1980 (Diamond v. Chakrabarty) which held that a live man-made micro-organism is patentable – the first time that living matter was afforded patent protection.  This started the race for patenting seeds of crops – with huge profits for corporations and unintended misery for small farmers (who have been sued for patent infringement even for unintended airborne pollination).
You can watch the film for free on the website or Hulu, or you can purchase the DVD.
Top image:  "Fruit Sellers" by Shiva Kumar, available for purchase at All India Arts.