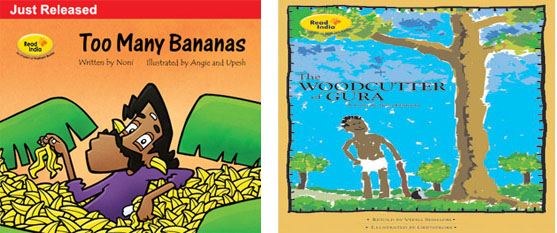 If you've searched high and low for bilingual books, you may already be familiar with Pratham Books – they are one of the world's most influential publishers of bilingual children's books in Indian languages.  With over 130 titles in virtually all the major Indian languages, Pratham has produced such witty and engaging titles as Too Many Bananas (about a farmer and his unwanted crop of sweet bananas) and The Woodcutter of Gura (based on an Ethopian folktale).  You can check out their list of titles (and availability in your language) here.
Pratham Books is an arm of the non-profit organization Pratham – dedicated to promoting literacy among children in India.  Founded in the slums of Mumbai in 1994 with UNICEF support, Pratham has launched direct urban programs and, with support from the William and Flora Hewlett Foundation, the Read India campaign – an innovative, low-cost effort to reach the 100 million plus children in India who cannot read, write or do basic math.
Their US counterpart – Pratham USA – is an award-winning charity with a 4-star rating from Charity Navigator (the highest possible).  It was established in 1999 to support Pratham's critical work in India and now has chapters in several U.S. cities.  We encourage you (and your kids) to get involved and reach out to their Indian peers this holiday season.
And if you're in the Austin area, don't miss Pratham-Austin's Holiday Dinner on December 4th.  Gnaana is participating in the event as a donor, so be sure to look for our package of products specially prepared for the evening's silent auction.