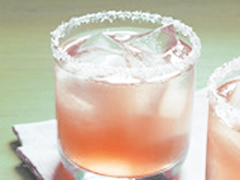 Getting ready for the New Year's festivities…I created this a few years ago as a variation to another gimlet recipe in a cocktails book I have.  It's my go-to hostess drink.
4 oz gin (or vodka – I prefer gin.  You can also substitute ginger ale for a non-alcoholic version.)
4 Tbs. guava nectar or juice (from the Indian store or the Mexican food aisle.  My favourite is the Mazaa stuff.)
2 Tbs. fresh lime juice
A tiny pinch of fresh cardamom powder (optional)
I rim the glasses with raw sugar (just run a lime wedge along the outer rim and dip upside-down in a plate of sugar).
Cheers!
Tags: recipe