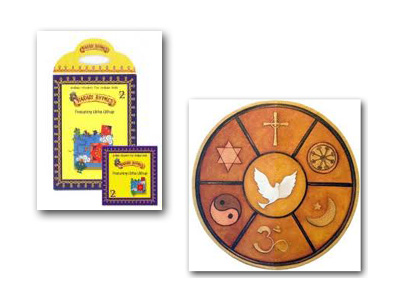 A New Special Series…
It all started with Karadi Rhymes – Volumes 1 an 2 of which have become staples in our house.  There is a song called Prayer Houses in Volume 2, which is about 4 children (Madhavi fro Allepey, Benjamin from Panjim, Shamsher from Ajmer and Jaswinder from Chandigarh) and where they pray (a temple, a church, a mosque and a gurudwara).
Something must have clicked in my 4 1/2-year-old son's head, because the questions kept coming: 
Where does [Classmate x] pray?
Where does tatha (grandfather) pray?
What is a gurudwara?
What do people do in it?
Etc., etc….
So this winter, with the cold days and dark afternoons, we'll be engaging in some interfaith exploration by visiting various houses of prayer in our neighborhood.  At first I thought that a 4 1/2-year-old is too young for such field trips, but judging by the eagerness with which my son answered "yes" to the question "do you want to go see [insert place of worship]", I thought it better to indulge his curiosity now rather than wait.  Of course, he's probably more interested in (briefly) absorbing the physical atmosphere of the building rather than engaging in deep conversation about the meaning of a Supreme Being – but, hey, you have to start somewhere.
I'll be chronicling our visits as part of a new Houses of Prayer series here on the blog.  I'll be telling you how I set-up each visit, how we were received, what we did and what questions my son asked. 
I do want to point out that when it comes to discussing core principles of faith, I firmly believe that this is the parents' responsibility.  Matters of faith and spirituality are very personal beliefs, especially in the Hindu theology.  My goal through this exercise is simply to show my son that different people have different customs – and for him to have a better grasp of our own traditions by comparing and contrasting to what others observe.
If you'd like to schedule your field trips to some of your local places of worship, make sure you call ahead to your destination to see if there are any rules or restrictions you need to observe.  The staff may also be able to have someone show you around.