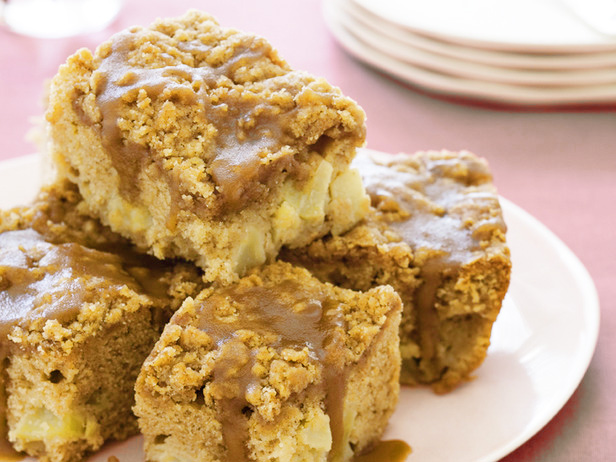 My very own creation this winter break – made for a family gathering.  It's not so "quick-and-easy," but very well worth the extra labour!
For the Chai Concentrate:
(Bring everything to a boil, turn off the heat and let stand for 15 minutes.  Strain.)
1 1/2 cups water
1 1/2 cups skim milk
3 heaping teaspoons loose leaf black tea
1-inch piece of peeled fresh ginger
8 cardamom pods, bruised

3 whole black peppercorns
3 whole cloves
1/2 cinnamon stick
1/8 tsp. star anise, crushed
3 tsp. sugar
For the Cake:
1 1/4 cups flour
1/2 cup sugar
1 tsp. baking powder
1/4 tsp. baking soda
1/4 tsp. salt

1 tsp. ground cinnamon
1/4 cup butter, melted
1/2 cup chai concentrate
1 egg, beaten
1 tsp. vanilla
For the Pear Topping:
2 cups pears – peeled, cored and chopped
2 Tbs. butter

1/4 cup chai concentrate
2 Tbs. brown sugar
For the Streusel:
(In a small bowl, pinch together with your fingers until crumbly.)
1/2 cup crushed oats
1/2 cup brown sugar, packed

3 Tbs. butter
For the Glaze (optional):
1/2 cup brown sugar, packed
1/2 tsp. vanilla extract

2 Tbs. water
Directions
1.  Preheat oven to 350 degrees Farenheit. Grease a 9-inch baking dish, 9-inch cake pan.
2.  In a large bowl, combine dry cake ingredients.  Slowly stir in the wet ingredients and mix well.  Spoon mixture into the cake pan.
3.  Make the pear topping:  sauté pears in the butter for about 2 minutes in a small saucepan.  Add the chai concentrate, cover and continue to cook for 2 more minutes.  Spoon onto the cake.  Sprinkle with streusel.
4.  Bake for about 45 minutes – until golden brown and a knife comes out with moist crumbs.  Let cool.
5.  For the glaze, combine all of the ingredients in a small bowl.  Drizzle on cake and let harden slightly.  Serve warm!
Tags: recipe