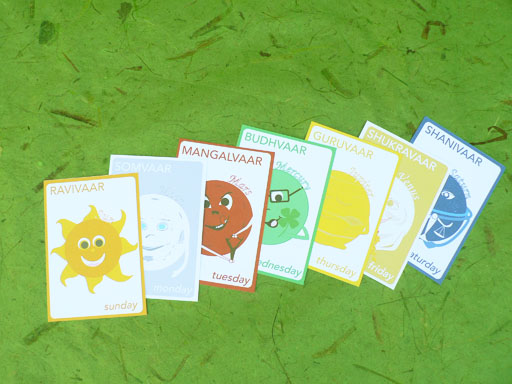 The Hindu, or Vedic, Time System is truly a gift to humanity.  Vedic astronomers divided time from the smallest of microseconds to epic yugas and kalpas.  Featured in our January Newsletter,here is a great way to introduce an element of the time system to kids:  starting with the 7 Days of the Week.
Astronomers in ancient India attributed each day of the week to be governed by a particular celestial body – the Sun (Surya or Ravi) and the Moon (Chandra or Soma) and 5 planets:  Mars (Mangal), Mercury (Budh), Jupiter (Brihaspati, the Guru of the Devas), Venus (Shukra) and Saturn (Shani).  Together with Rahu and Ketu, these celestial bodies are collectively named the navagrahas.
Kids will be interested to know that each planet is said to have it's own personality and color – Mars (red) is a troublemaker, Jupiter (yellow) is wise and pious and Saturn (blue/black) is strict and stern.
Our flashcards cleverly depict these personalities – and the back of each gives a brief explanation – so print them out and go through them with your kids.  You can even "play-it-up" further by dressing in the day's corresponding color – a fun way to get through a harsh winter week!
Available here! $5 and Free Shipping
P.S.:  You'll be interested to know that the ancient Romans also had the idea of ruling planets – and named their days of the week accordingly.  Which system came first?  Well, that's for the academic experts, but you can read more here.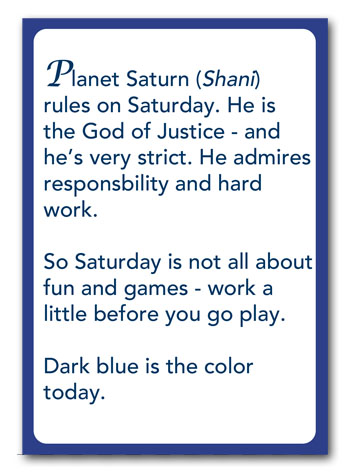 Tags: language