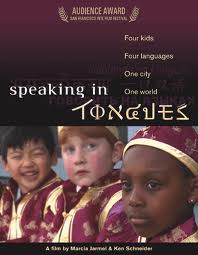 If there is one movie you should see this month, I suggest Speaking In Tongues.
Winner of the San Francisco International Film Festival Audience Award, this film begs the question:  Is English enough? It documents 4 children who, starting from kindergarten, were immersed in 2 languages:  An African-American boy from public housing who learns to read, write, and speak Mandarin.  A Mexican-American boy (whose parents are not literate in any language) who develops professional-level Spanish while mastering English.  A Chinese-American girl who regains her grandparents' mother tongue—a language her parents lost through assimilation.  A Caucasian teen who travels to Beijing to stay with a Mandarin speaking host family.
It's a fascinating exploration into how kids adapt and respond to learning a second language – and about preparing our kids for a global future in which the U.S. won't always be "right" and knowing only English just won't be enough.
Yes, we can do better than monolingual education – it's just that in the U.S. it's up to parents and families to seek out how.
Tags: language