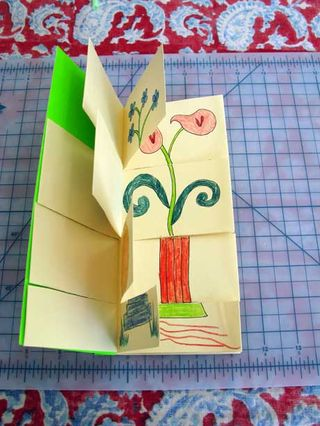 This post is authored by Bhavna Mehta – art educator and founder of Hansa Arts.  Bhavna teaches art classes in the San Diego area for children and adults, including drawing, painting and other paper crafts.  She also teaches a class in Upcycled Art at UC San Diego, where students explore how to recycle and reuse materials to make art.
My Changing Garden
Materials
5 sheets of white paper – 8.5″ x 8.5″
1 sheet of colored paper – 8.5″ x 8.5″
Glue stick, Scissor, Stapler, 2 paper clips
Ruler, pencil, eraser, color pencils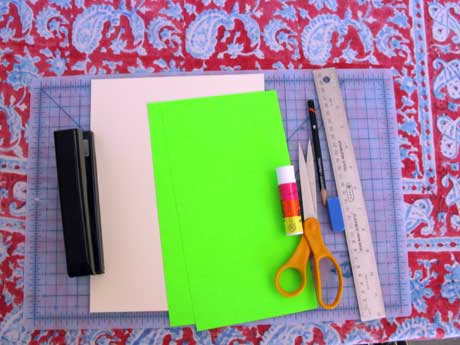 Take each sheet of white paper and fold it in half lengthwise.  Glue the 2 insides together to form a thicker sheet of paper.  These are the pages of your book.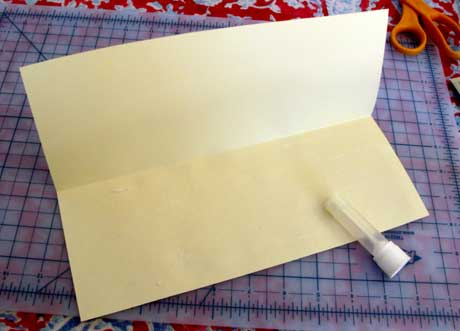 Now make measurements and lines on the first page as shown below.  Collect the 5 sheets and cut them all together on the red line.  Each page will now have 4 sections.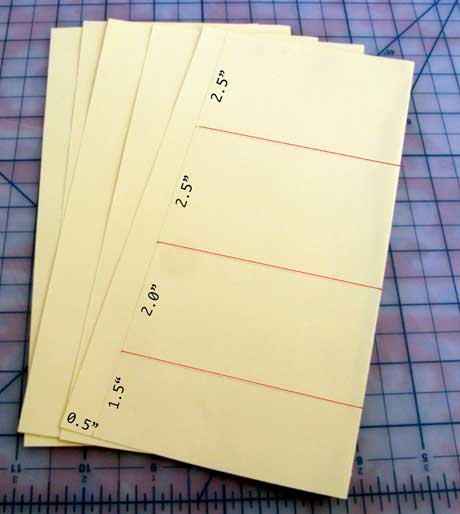 Cut the colored sheet of paper in half lengthwise and use that as the front and back cover.  Staple along the side as shown.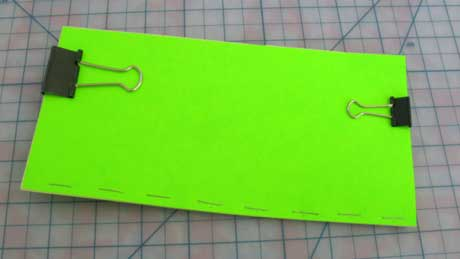 Your book is now ready!  Decorate the front cover with the name of your book.  Feel totally free to change the name and the design.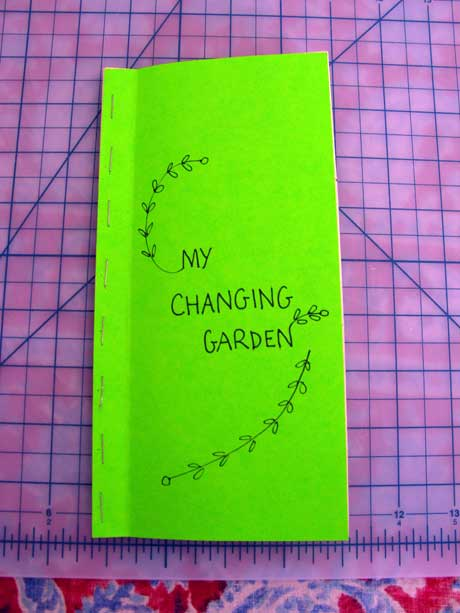 Now you draw inside the book! On the first page – draw the 4 sections of a potted plant as shown. Stem and flower in the top section, leaves in the second, pot in the third, and a base on the fourth.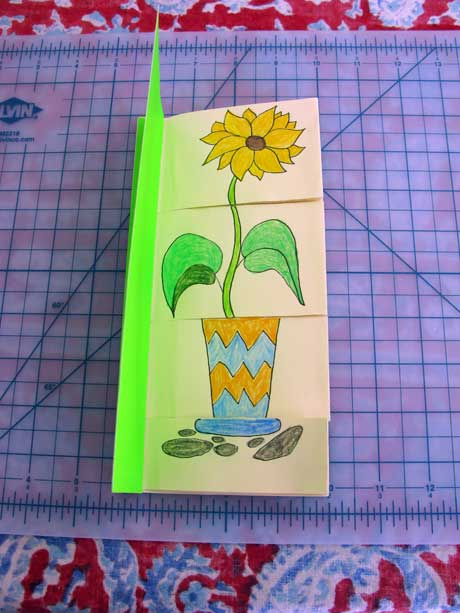 Now comes the fun part.  SImply turn the top section and draw another flower on the next page, taking care to match the stem from the previous page to the new flower.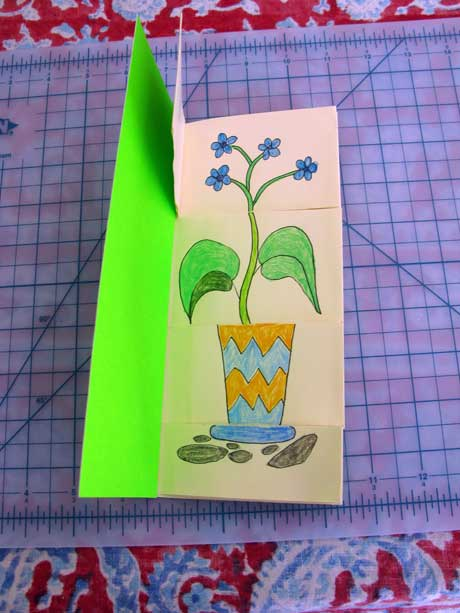 Turn the second section of page 1 and draw new leaves on page 2, taking care the stem of the leaves will go into the pot on page 1.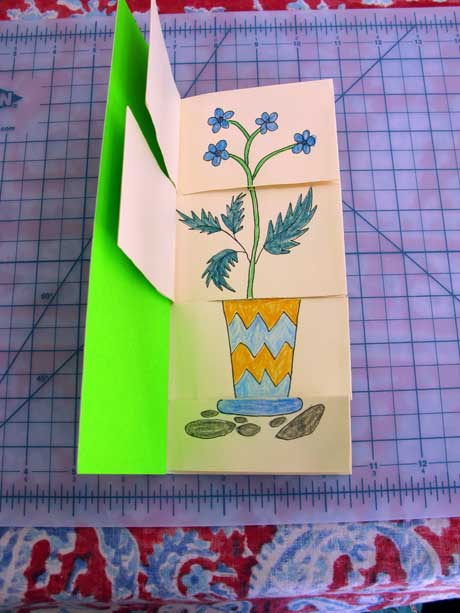 And so on.  Do this for all sections and the 5 pages.  See a bunch of pictures below.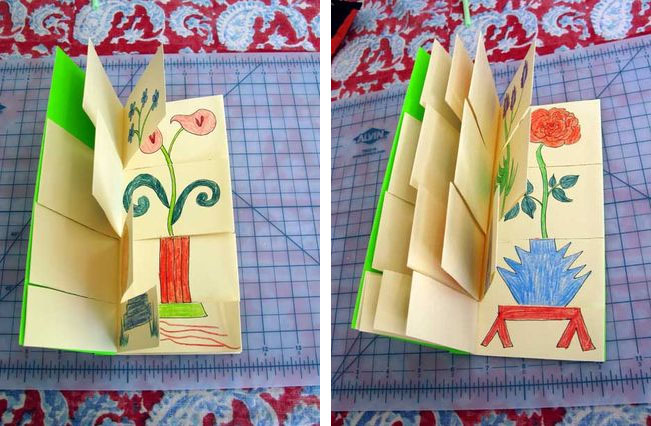 You can play with your book endlessly, mixing and matching flowers and leaves and pots and bases.  See which one you like the best!
You can make a Mix and Match Book with a variety of subjects.  See another one below.  Instead of staples, I have used thread and needle to do Japanese binding.  You can also use a sewing machine.
Section 1:  Head and hair
Section 2:  Torso and arms and clothing
Section 3:  Legs, clothing
Section 4:  Feet and shoes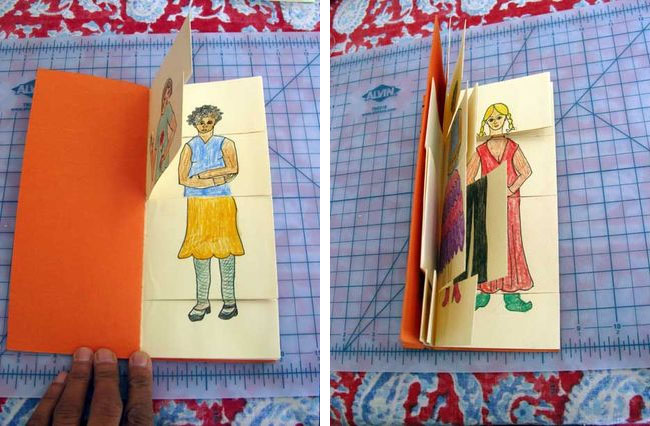 © 2011 Hansa Arts
www.hansaarts.com
Hansa Arts offers creative, unique (and truly inspirational) project ideas for kids and adults.  Bhavna also recently held a Portrait Workshop in Ahmedabad for disadvantaged kids – you can see some of the creations here. Truly heartwarming!
Tags: art