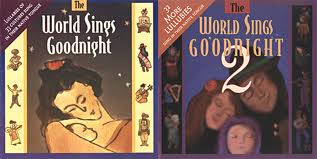 Those in my circle of near and dear already know how much I adore these 2 CDs of world lullabies – they are my absolute favourite items to gift for new babies.  And shame on me for not posting about these earlier.
The World Sings Goodnight – Volume 1 and Volume 2 – each contain roughly 32 tracks of lullabies from almost every corner of the world – Senegal, Egypt, France, Ethiopia, Korea, Japan, Argentina…and the list goes on.  For the first volume, creators Susan and Tom Wasinger spent over 2 years collecting the songs.  (Tom Wasinger was recently profiled in Boulder Magazine – where he talks more about the making of the album).
The beauty of the lullabies is that they are almost a cappella – with little or no instrumental accompaniment – just as though mom, dad (or grandma) were singing.
During these long winter nights, I love to curl up with my kids and listen to these beautiful lullabies – it's like we're travelling and connecting with a global humanity.  What a gift.
Tags: music