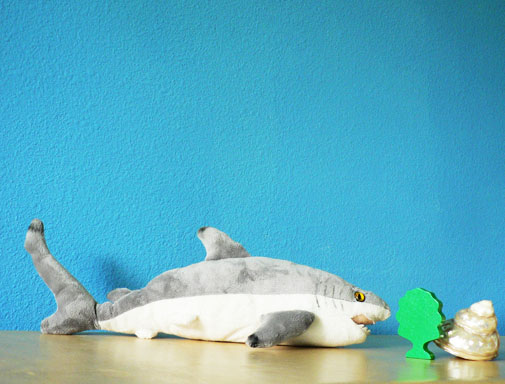 So I found myself explaining evolution to my son the other day – it was a brief, 10-minute synopsis of what his political-science-major-mommy could remember of the topic – but that was about enough for him.  It was a natural and inevitable discussion point stemming from his recent obsession with sharks – those resilient creatures blessed with perhaps the greatest of evolutionary success (and, which I have only recently learned, predated even the dinosaurs).
As I gave him an elementary breakdown of natural selection, mutation, and how life on earth developed from bacteria and algae to apes and humans, it occurred to me that he did not seem the least bit surprised about all of this.  Perhaps it only seemed like common sense to him that of course sharks should be successful at this whole living thing – they're the most powerful creatures in the ocean.  Or perhaps it just seemed a natural extension of the cyclical nature of Hindu theology I'd been teaching him – embedded in the stories of Lord Vishnu's Das Avatar.
I remember studying the famous Scopes Monkey Trial in law school (we even had a huge mural of a scene from the trial in our cafeteria) – that "trial of century" which indicted a high school biology teacher for teaching evolution in violation of the state's Butler Act (guilty verdict overturned by the Tennessee Supreme Court on a technicality (but upholding the Butler Act) – it was not until 1968 that the U. S. Supreme Court held such laws to be unconstitutional).
Do schools today teach evolution? I don't remember ever learning about it in my public school (maybe it was in a textbook, but we never discussed the issue in class).  Is it part of the curriculum in other parts of the world?  I'm hoping my kids' school will include it – it's such a fundamental biological concept and, as it happens, a concept so intertwined with Hindu philosophy.  If not, I'll be sure to expand upon the topic when the time comes – as there are many, many teaching materials available.
For now, we'll keep the discussion to sharks.