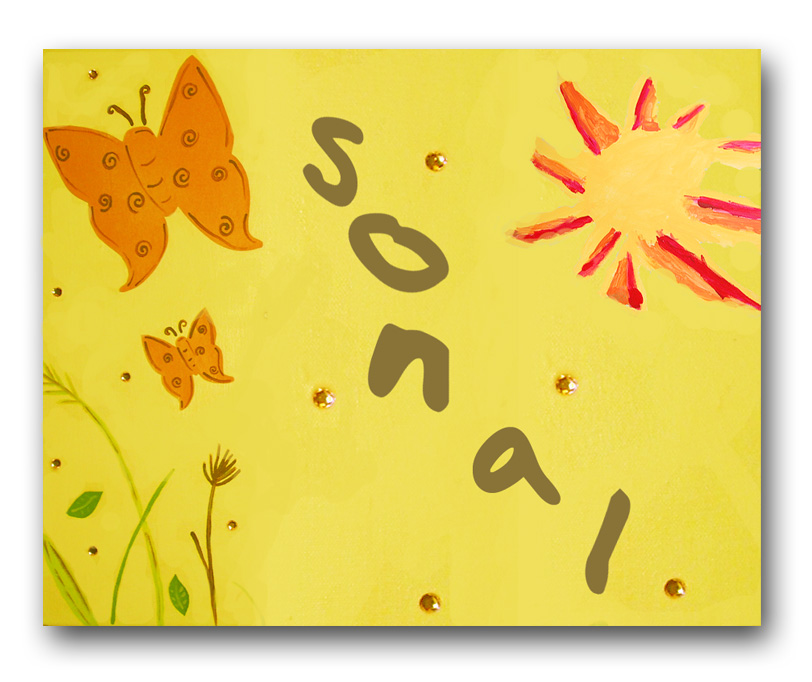 (Sonal means "Golden")
As kids write out Valentines this month, names are most definitely on everyone's minds.  Names are beautiful, symbolic and, most importantly, graced with radiant and evocative meanings.
Do your kids know what their name means?
Here's a simple (and surely memorable) project for kids from our February Newsletter:  have them create a name poster – with drawings or pastings of all of the elements which give meaning to their names.  This is a great opportunity for self-exploration.  Here are few tips to get you started:
1.  First, if you've never done so, ask them if they know what their name means.  It may not be something they've even thought to ask!
2.  Tell them, in an age-appropriate manner, what their name symbolizes.  Why did you choose it?  Is there a special family history behind it?  If the name is taken after a particular deity, what aspects of that deity are embodied in the name?
3.  Make a list of 5-10 words that relate to their name – include colors, objects, and qualities.  For the words that are more of an esoteric nature (e.g. "patience") help your kids think of an object or animal that embodies those qualities.
4.  Gather a paper or canvas (perhaps in one of the colors you identified) and paints, markers and other craft items and urge your child to include as many of the words as he can.  If your child is too young to draw more complicated objects, use stickers or cut-out images from magazines.
5.  Of course, don't forget to include your child's name on the artwork!
Get creative – and have fun!