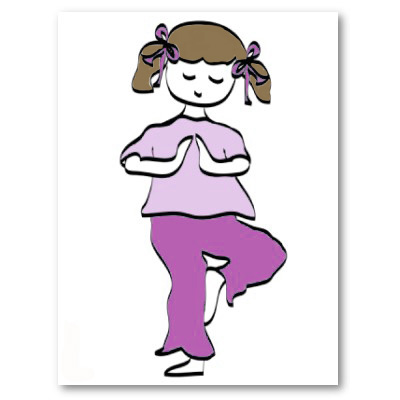 This post is authored by Sheena Patel – founder of wellness boutique Savsani.  Sheena has taught classes in positive psychology at Massachusetts Institute of Technology, yogic principals at Harvard Business School and stress management at Massachusetts General Hospital.  Savsani offers comprehensive wellness programs for individual and corporate clients.
Become a yoga role model for your next generation!  This article will give you some tips on how to help your kids get into the yoga spirit.
People are interesting creatures.  Next time you are around another parent, observe how they talk to their child.  Is the child paying attention to the parent?  You may notice the child looking away in the opposite direction, or playing with her hair, but odds are that she is not paying attention. You may find yourself in the same position with your little ones when you are trying to lecture them on something that they just might not be listening to.  So what do you do?
Children of course don't like to listen and and as they get older, it only gets worse.  The best way to encourage good habits is for parents to set an example.  Children are not likely to forget something they see in action.  As Indians we are truly blessed with the wealth of knowledge on how to live a fulfilling and successful life through techniques from the Vedas.  So why not implement those techniques and become profound role models for our little ones?
You can start by practicing the asanas that SavSani had recommended in last month's article Resolution Yoga :: One Asana a Day Keeps the Doctor Away.  Just pull out your mat first thing in the morning and start practicing.  Make it a routine for yourself and encourage your little one to join in – he or she will surely be intrigued.
As you make yoga part of your routine, your little one will recognize the importance of this daily ritual.  You probably won't even need to say anything – they will soon be trying to copy and practice by your side.  But beware!  Soon enough they might be practicing a better cobra or bridge than you as their bodies haven't yet been infused with stress and tension.
Giving kids the gift of yoga is one of the best gifts that you can give them.  Not only will it stay with them for the rest of their lives, but it will also be something that they can remember you by.  Being on the mat side by side is truly a beautiful connection you can have with them in that special quite place where your energy is purely positive.
So this February continue to practice the asanas that were given to you in January, but this time make sure that you have a little friend or two by your side to keep you company and perhaps even practice with you.  Happy yoga-ing!
Disclaimer: As with any physical activity, please consult with your primary care physician before practicing.

© 2011 SavSani
www.savsani.com
sheena@savsani.com
Image via Google Images
Tags: yoga