Archive for March, 2011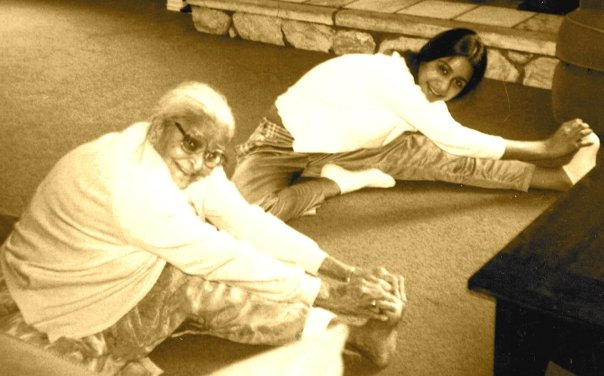 This post is authored by Sheena Patel – founder of wellness boutique Savsani.  Sheena has taught classes in positive psychology at Massachusetts Institute of Technology, yogic principals at Harvard Business School and stress management at Massachusetts General Hospital.  Savsani offers comprehensive wellness programs for individual and corporate clients.
A Guru is a spiritual teacher – a master – whose identification with the self is one and the same.  A Guru is one who guides students past their own limitations and helps them to reach their goal.  In yoga we understand that as humans we have a rare potential to transform ourselves pursuant to an extraordinary vision.  To put this vision to use in our lifetime is our highest duty, and it is something that our Guru can help us with.  So who is your Guru – your guide, or role model in life?
My Guru is my grandmother, Mani Savsani.  I feel lucky to be able to walk in her shoes by listening to her life experiences – especially her hardships, which she talks about as though they were a walk in the park (and even smiles about).
My grandmother faced many hardships.  She was held up at gunpoint during the Ugandan expulsion of Asian and British residents during Idi Amin's rule.  She handed over all of the family's business and properties and left for England without speaking a word of English.  Also, her husband, my grandfather, passed away as they moved west –  leaving her to raise the family without a dollar in her pocket.  No matter what life dealt her, she has always remained true to herself and has never let her spirit die.
Her spirit dictates equality towards all, a sense of truth and wise action.  It is her spirit that has brought me to found the wellness company Savsani.  Every time I teach a yoga session or give a lecture on stress management, I dedicate the class to the simple smile of my grandmother.  I see the smiles of my students as a reflection of my grandmother's smile.
Ever since I can remember, she has been my guide.  I am always watching, listening and learning from her.  Being able to pull pure inspiration on how she leads her life is empowering and gives me direction.
Everyone nowadays talks about the power of intention, but at times it's uncertain how one's intention or vision can manifest itself.  A "power of intention" can lead someone to align themselves with their role model.  This can be their father, their coworker, their teacher or anyone capable of providing guidance.
I often do a simple exercise to continue to realign myself with my Guru by asking myself three questions:  1) why is Mani Savsani a role model in my life? 2) What aspects about Mani Savsani do I strive to embody?  3) How is it that Mani Savsani has a constant smile on her face regardless of the circumstances of the environment that she's in?  For me it's a short meditation to get me realigned and to have my Guru show me direction, often times in the middle of darkness.  This alignment automatically creates solutions and a path no matter what I'm going through in my life.
So after following the "power of my intention" to connect with my Guru, I've found the true vision for my life which is to have everyone that I come across feel the same smile that I feel when I'm in the presence of my grandmother.  Year after year through one person followed by another the SavSani spirit will live on forever.

© 2011 SavSani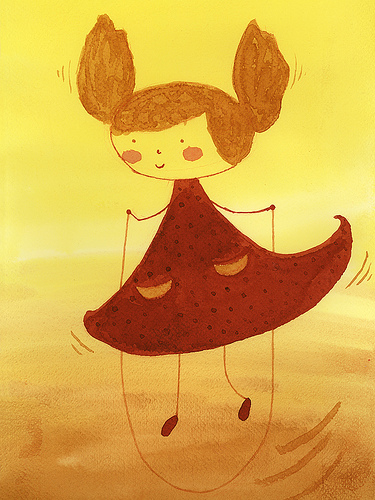 Image by Ildi's Paintings
My daily run is sacred to me – a habit I thankfully kept since my high school and college track days.  So fierce is my addiction that I am ashamedly reckless in making sure I get my run in.  I've run in blizzards and thunderstorms, at nights on the streets of DC when I lived there, and alone in foreign countries (though I had a good scare in Portugal once when a white van slowed down and started opening the door – presumably to abduct me).
Needless to say, I want to make sure my kids are fit.  But how much exercise should they be getting?
I didn't know that the National Association for Sport and Physical Education has published Guidelines (summarized below) for infants, pre-schoolers and toddlers.
| | | |
| --- | --- | --- |
| Age | Minimum Daily Activity | Comments |
| Infant | No specific requirements | Physical activity should encourage motor development |
| Toddler | 1½ hours | 30 minutes planned physical activity AND 60 minutes unstructured physical activity (free play) |
| Preschooler | 2 hours | 60 minutes planned physical activity AND 60 minutes unstructured physical activity (free play) |
| School age | 1 hour or more | Break up into bouts of 15 minutes or more |
It's unclear what qualifies as "planned physical activity" and "free play" – I would think that since young kids by their nature can't sit still, almost all time not spent eating and sleeping is "play time."
Of course it's easy to be active when the weather is nice, but if it's not, you're forced to be more creative.  What about the Masala Bhangra Workout DVD for Kids?  I'm not usually a video exercise person, but I may just have to check this out.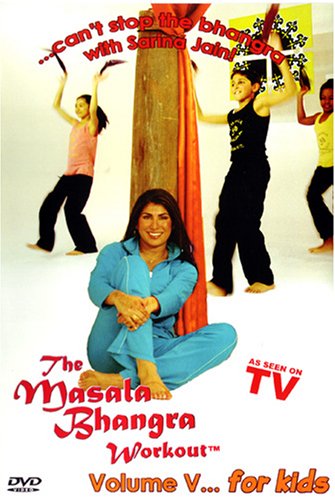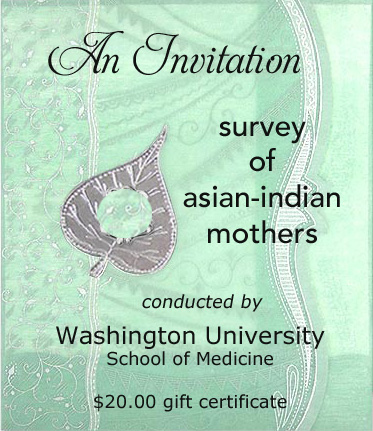 Are you a mother of Asian-Indian descent living in the United States? Please participate in this important study conducted by Washington University School of Medicine in St. Louis. Participants who meet the eligibility criteria (see below) will receive a $20.00 gift certificate as reimbursement.
Please pass along to anyone who may be interested.
Survey on Asian-Indian Parents of Young Children
Please consider taking part in an online study on the values, beliefs and attitudes of Asian Indian mothers. Your assistance will be helpful to psychologists and educators to learn more about the parenting experiences of your ethnic group.
Criteria for Participation
1. Be an Asian-Indian mother of an Asian-Indian child aged 3-6 (father of child also must of Asian-Indian descent)
2. Be between the ages of 25-40
3. Live in the United States
4. Be either 1st generation (born in India and immigrated to the US within the last 15 years) or 2nd generation (born in U.S. or arrived in U.S. before age of 5)
5. Able to read and write in English
Participation involves completing a short demographic form and three questionnaires online.
It should take about 15-20 minutes to complete the survey.
You will receive a $20.00 gift certificate as reimbursement for participation.
If you would be willing to participate, please click on the following link (or copy and paste in your web browser) to complete the consent form and survey: http://www.psychdata.com/s.asp?SID=136295
If you have any questions about the survey, you can contact me directly before, during, or after the study through email at navsarin@psychiatry.wustl.edu.
Thank you!
Neha Navsaria, Ph.D.
Washington University in St. Louis School of Medicine
Campus Box 8134
660 S. Euclid Ave.
St. Louis MO 63110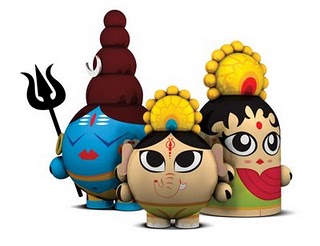 We couldn't have done it better ourselves.  Check out Toy Art da India – concept toys by Brazilian designer Rique C. Pereira.  Pictured above are Shiva, Ganesh and Parvati.  Kali, Lakshmi, Krishna and Hanuman are also part of the collection.
Sadly, Rique (as the designer was known) passed away – er, beaten to death in Sao Paulo actually.  From what we could gather, the toys were to be produced in resin.  Perhaps someone purchased the rights to the artwork, we don't know.  But what lucky boy or girl would not want these in their collection?
Our condolences to the Pereira family.
Page translations from the Portuguese by Google Translate:
Toy Art da India
Mouring: Rique C. Pereira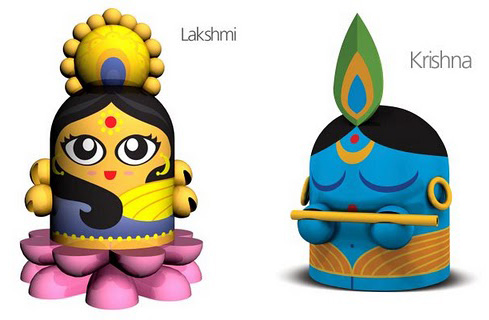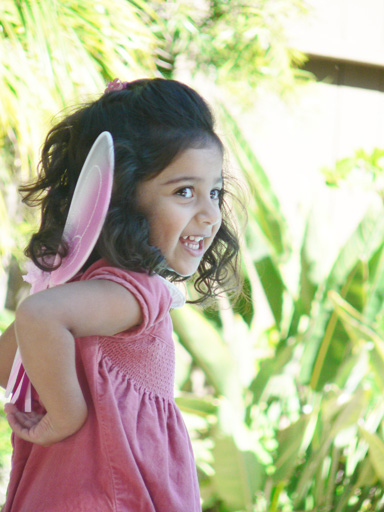 We were in a Target the other day when my daughter spied a pair of fairy wings – which she immediately HAD to put on.  "Me butterfly," she declared as she fluttered about the store, eliciting many "aaawww's" from other shoppers and many secret smiles on her part.  So when we came back home, I had the chance to capture the moment as she continued the role-playing in our backyard.
She has butterfly everything:  butterfly rainboots, butterfly umbrella, a butterfly hoodie, butterfly pajamas and (most recently) butterfly bedsheets, which are worth their weight in gold for keeping her in her bed.  But, sadly, we don't use the Telugu word for butterfly – an unfairly complicated 7-syllable behemoth of a word:  seeta-koka-chilaka.  So I find myself cheating a little and borrowing the Hindi word for butterfly – titlee (which is short and fun to say) when reading books and such.  Sorry, Telugu, but I draw the line at 5 syllables.  Is this wrong of me?  It's not the first time I've borrowed – many Hindi words are shorter and easier to say.  Besides, it's a Hyderabad thing (where you can't survive in some parts unless you speak Hindi/Urdu).  "Butterfly" is still the reining word, but at least we have a less onerous alternative during our no-English hours.
So this month, "ta" is for "titlee."
Origami Butterfly Mobile by RoundHouseDesigns. $45.00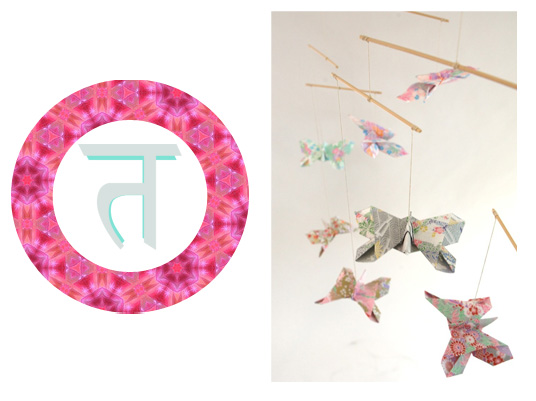 Two's Company Silhouettes Jute Bags ($40.80) and Butterfly Pillows ($89.00), available at Madison Ave Gifts.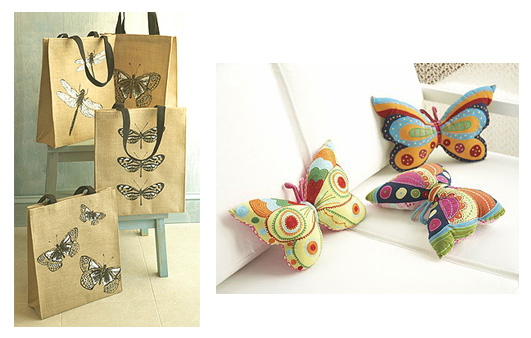 Brahma's Butterfly, a delightful tale from Tulika Books – think of it as The Very Hungry Caterpillar meets Indian folktale. Rs. 120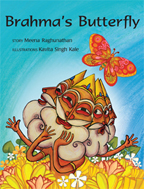 Outdoor whimsy:  DIY Butterfly Straws by Good Housekeeping and a dreamy Butterfly Bench.  $2,500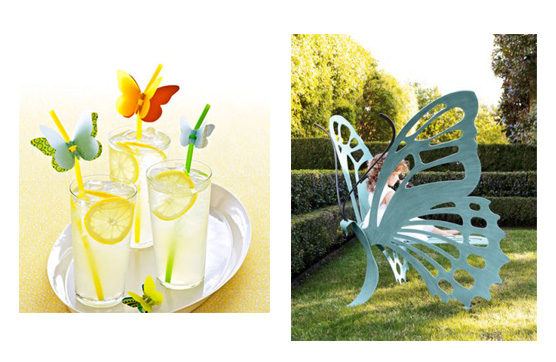 Cheerful Butterfly Pendant Light ($80.00) and Delight Table Light by The French Bedroom Company (£145)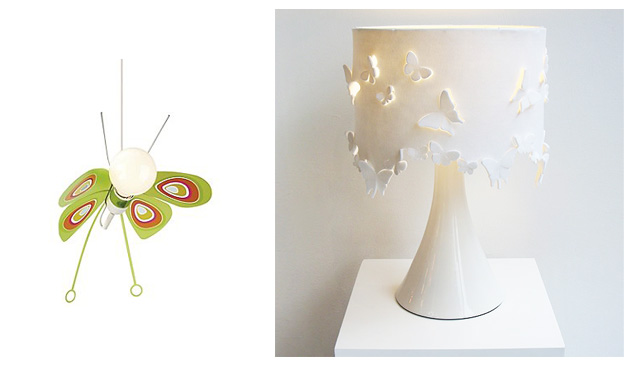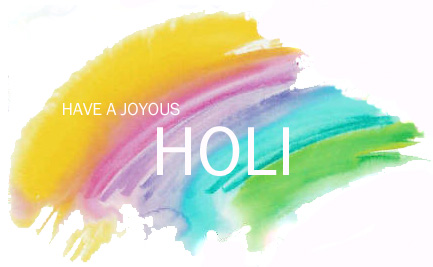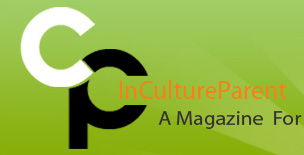 Do you feel alone sometimes in your efforts to raise bicultural or bilingual children? That there are not enough quality resources that offer guidance?
I was introducted to InCultureParent last month – "an online magazine for parents raising little global citizens" – and have been slowly perusing through the wealth of information offered on the site.  From Q+A's with notable linguists to personal accounts of a nanny's impression of multicultural households and tales of breastfeeding in Mongolia, it's a refreshing source of support and inspiration in navigating your kids through a dominant-culture society.
This month, the magazine features Holi (including craft ideas and a recipe for almond thandai) and Nowruz.  So check it out and join the discussion!
Update:  InCultureParent was featured in the New York Times today!  Read the article here.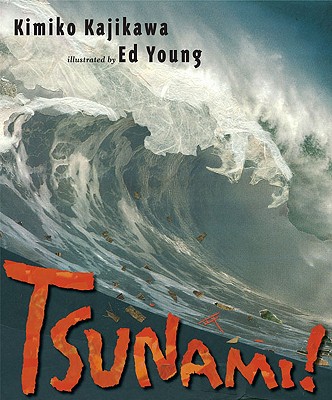 If anyone has been around my kids lately, they'd know that tsunamis have been a big topic of discussion since December.  I just happened to mention to my 4-year-old one day that tsunamis were really big waves where the ocean comes onto the land, and somehow unleashed a series of questions that had to be answered (and re-answered) on a daily basis.  And so we have all the prime tsunami YouTube videos bookmarked on our television and the kids roll around the house pretending to be ocean water that "crushes everything" (though I have to broker peace when big brother tries to roll over and "crush" his little sister).
No wonder then that my son, who normally tries to distract us with all his might from the NBC Nightly News, has been sitting through entire broadcasts of the events in Japan.
If your child is interested in tsunamis and the current events, I highly recommend Tsunami! by Kimiko Kajikawa.  It's a remarkable Japanese story of a wealthy farmer (Ojiisan) who gives up everything to save his fellow villagers from a tsunami – admirable societal values that kids from all cultures should ponder.  There is a beautiful spread in the middle of the book that depicts an impending tsunami wave (no words) that I would love to have framed – a work of art that reminds you that nature is supreme.
Holi is almost here – and we have a colorful craft to bring in some springtime cheer, as featured in our March Newsletter.  Just tell the kids it involves glue – that will get their attention!
Featured here is an OM suncatcher, along with a window display of a little girl and boy and tissue-paper flowers, but you can use any shape.  Complete the look with pretty craft butterflies and a special holiday placesetting just for the little ones.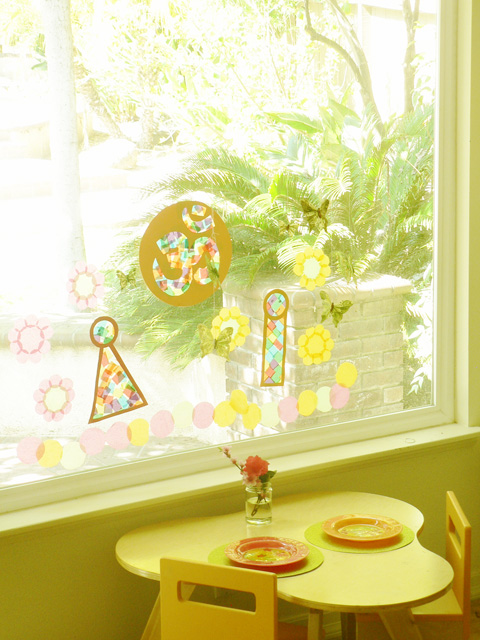 Here's what you'll need:
Colored carsdtock or construction paper
Several sheets of vellum paper
Colored tissue paper, cut into small rectangles or squares
Mod Podge (or other non-toxic, clear adhesive)
Scissors
Clear tape
You'll want to pre-cut the shape(s) for the suncatcher(s) ahead of time.  Simple trace your desired shape onto the colored cardstock and cut away the inside.  When the kids are ready, place the tissue paper squares into a large bowl and give each child a sheet of vellum paper.  Have them brush the vellum with the Mod Podge and create a mosaic with the tissue paper squares.  When dry, tape the vellum mosaic to the back of the cardstock.  Place in a window and let the sun pour in!
You can take it a step further and tape other tissue paper shapes to the window to create a window display – perhaps even a scene to illustrate the story of Prahlad and Holika.
And if you dare, you can let the kids "play Holi" with the remaining tissue paper squares.  Caveat cleaner-upper…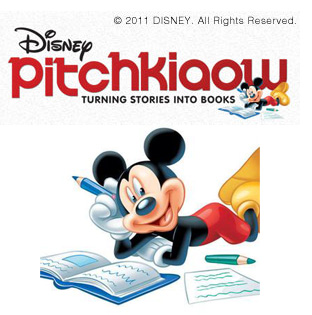 Raconteurs rejoice!  We recieved an email regarding Disney's Pitchkiaow Story Contest.  Disney is looking for original Indian-themed stories that will appeal to children worldwide.  Some of the suggested themes are Grandma's stories retold in today's times, escapades of kids in a historical period, cricket capers and Indian princess stories.  In its search, Disney hopes to unearth "hidden gems amongst Indian writers."
Although marketed heavily in India, the contest is not limited to Indian writers – so wherever you are in the world, if you or someone you know has a treasure chest of tales, don't miss out on this opportunity.
But hurry, submissision deadline is March 31, 2011. 
For more information, please visit the Disney Pitchkiaow Contest Page
Also, Disney's publicity partner, Chillibreeze, is hosting a special discussion forum about the contest, so check there for some helpful tips and support: Disney Pitchkiaow Forum