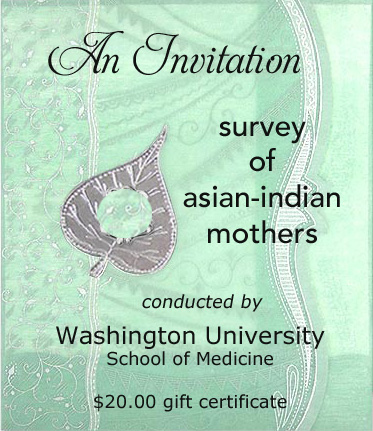 Are you a mother of Asian-Indian descent living in the United States? Please participate in this important study conducted by Washington University School of Medicine in St. Louis. Participants who meet the eligibility criteria (see below) will receive a $20.00 gift certificate as reimbursement.
Please pass along to anyone who may be interested.
Survey on Asian-Indian Parents of Young Children
Please consider taking part in an online study on the values, beliefs and attitudes of Asian Indian mothers. Your assistance will be helpful to psychologists and educators to learn more about the parenting experiences of your ethnic group.
Criteria for Participation
1. Be an Asian-Indian mother of an Asian-Indian child aged 3-6 (father of child also must of Asian-Indian descent)
2. Be between the ages of 25-40
3. Live in the United States
4. Be either 1st generation (born in India and immigrated to the US within the last 15 years) or 2nd generation (born in U.S. or arrived in U.S. before age of 5)
5. Able to read and write in English
Participation involves completing a short demographic form and three questionnaires online.
It should take about 15-20 minutes to complete the survey.
You will receive a $20.00 gift certificate as reimbursement for participation.
If you would be willing to participate, please click on the following link (or copy and paste in your web browser) to complete the consent form and survey: http://www.psychdata.com/s.asp?SID=136295
If you have any questions about the survey, you can contact me directly before, during, or after the study through email at navsarin@psychiatry.wustl.edu.
Thank you!
Neha Navsaria, Ph.D.
Washington University in St. Louis School of Medicine
Campus Box 8134
660 S. Euclid Ave.
St. Louis MO 63110