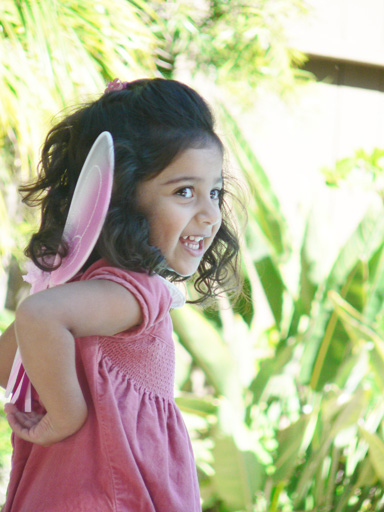 We were in a Target the other day when my daughter spied a pair of fairy wings – which she immediately HAD to put on.  "Me butterfly," she declared as she fluttered about the store, eliciting many "aaawww's" from other shoppers and many secret smiles on her part.  So when we came back home, I had the chance to capture the moment as she continued the role-playing in our backyard.
She has butterfly everything:  butterfly rainboots, butterfly umbrella, a butterfly hoodie, butterfly pajamas and (most recently) butterfly bedsheets, which are worth their weight in gold for keeping her in her bed.  But, sadly, we don't use the Telugu word for butterfly – an unfairly complicated 7-syllable behemoth of a word:  seeta-koka-chilaka.  So I find myself cheating a little and borrowing the Hindi word for butterfly – titlee (which is short and fun to say) when reading books and such.  Sorry, Telugu, but I draw the line at 5 syllables.  Is this wrong of me?  It's not the first time I've borrowed – many Hindi words are shorter and easier to say.  Besides, it's a Hyderabad thing (where you can't survive in some parts unless you speak Hindi/Urdu).  "Butterfly" is still the reining word, but at least we have a less onerous alternative during our no-English hours.
So this month, "ta" is for "titlee."
Origami Butterfly Mobile by RoundHouseDesigns. $45.00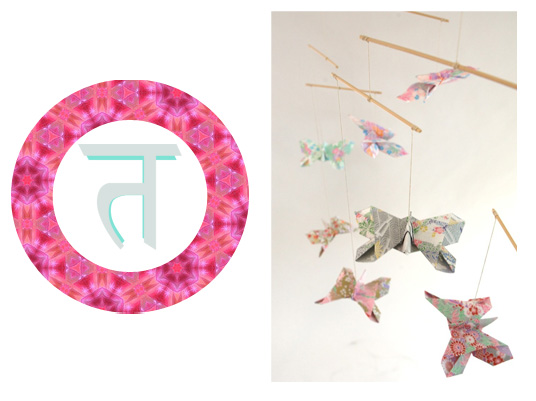 Two's Company Silhouettes Jute Bags ($40.80) and Butterfly Pillows ($89.00), available at Madison Ave Gifts.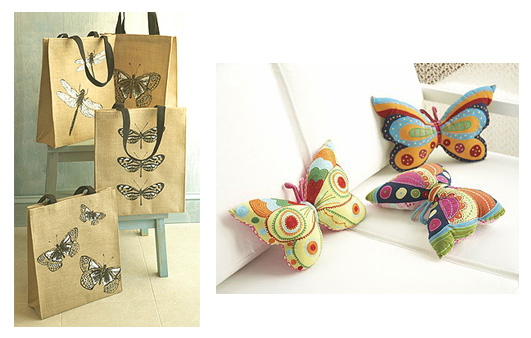 Brahma's Butterfly, a delightful tale from Tulika Books – think of it as The Very Hungry Caterpillar meets Indian folktale. Rs. 120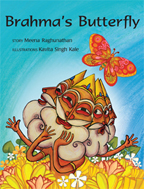 Outdoor whimsy:  DIY Butterfly Straws by Good Housekeeping and a dreamy Butterfly Bench.  $2,500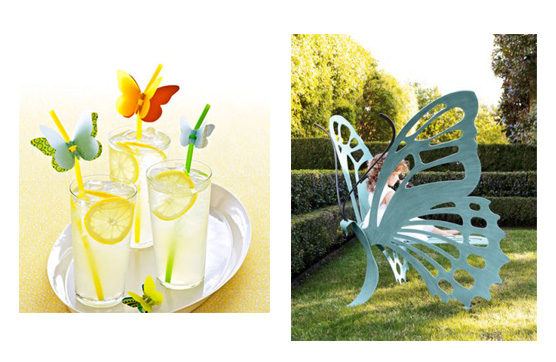 Cheerful Butterfly Pendant Light ($80.00) and Delight Table Light by The French Bedroom Company (£145)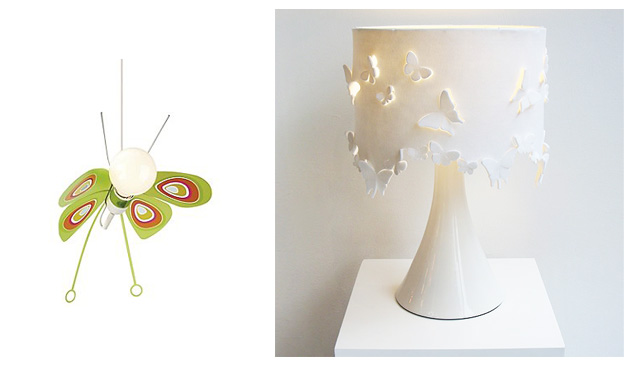 Tags: Telugu