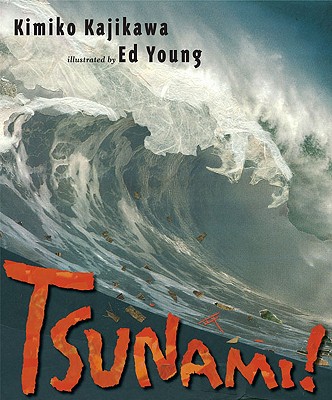 If anyone has been around my kids lately, they'd know that tsunamis have been a big topic of discussion since December.  I just happened to mention to my 4-year-old one day that tsunamis were really big waves where the ocean comes onto the land, and somehow unleashed a series of questions that had to be answered (and re-answered) on a daily basis.  And so we have all the prime tsunami YouTube videos bookmarked on our television and the kids roll around the house pretending to be ocean water that "crushes everything" (though I have to broker peace when big brother tries to roll over and "crush" his little sister).
No wonder then that my son, who normally tries to distract us with all his might from the NBC Nightly News, has been sitting through entire broadcasts of the events in Japan.
If your child is interested in tsunamis and the current events, I highly recommend Tsunami! by Kimiko Kajikawa.  It's a remarkable Japanese story of a wealthy farmer (Ojiisan) who gives up everything to save his fellow villagers from a tsunami – admirable societal values that kids from all cultures should ponder.  There is a beautiful spread in the middle of the book that depicts an impending tsunami wave (no words) that I would love to have framed – a work of art that reminds you that nature is supreme.