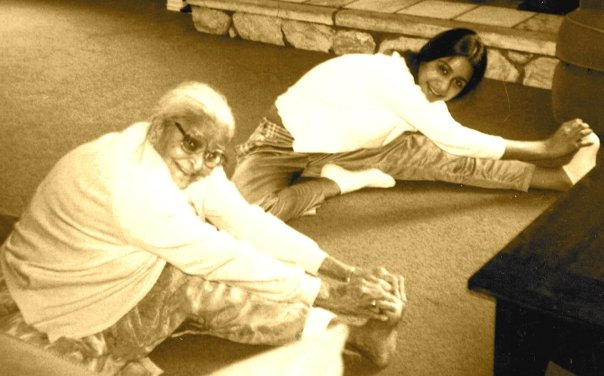 This post is authored by Sheena Patel – founder of wellness boutique Savsani.  Sheena has taught classes in positive psychology at Massachusetts Institute of Technology, yogic principals at Harvard Business School and stress management at Massachusetts General Hospital.  Savsani offers comprehensive wellness programs for individual and corporate clients.
A Guru is a spiritual teacher – a master – whose identification with the self is one and the same.  A Guru is one who guides students past their own limitations and helps them to reach their goal.  In yoga we understand that as humans we have a rare potential to transform ourselves pursuant to an extraordinary vision.  To put this vision to use in our lifetime is our highest duty, and it is something that our Guru can help us with.  So who is your Guru – your guide, or role model in life?
My Guru is my grandmother, Mani Savsani.  I feel lucky to be able to walk in her shoes by listening to her life experiences – especially her hardships, which she talks about as though they were a walk in the park (and even smiles about).
My grandmother faced many hardships.  She was held up at gunpoint during the Ugandan expulsion of Asian and British residents during Idi Amin's rule.  She handed over all of the family's business and properties and left for England without speaking a word of English.  Also, her husband, my grandfather, passed away as they moved west –  leaving her to raise the family without a dollar in her pocket.  No matter what life dealt her, she has always remained true to herself and has never let her spirit die.
Her spirit dictates equality towards all, a sense of truth and wise action.  It is her spirit that has brought me to found the wellness company Savsani.  Every time I teach a yoga session or give a lecture on stress management, I dedicate the class to the simple smile of my grandmother.  I see the smiles of my students as a reflection of my grandmother's smile.
Ever since I can remember, she has been my guide.  I am always watching, listening and learning from her.  Being able to pull pure inspiration on how she leads her life is empowering and gives me direction.
Everyone nowadays talks about the power of intention, but at times it's uncertain how one's intention or vision can manifest itself.  A "power of intention" can lead someone to align themselves with their role model.  This can be their father, their coworker, their teacher or anyone capable of providing guidance.
I often do a simple exercise to continue to realign myself with my Guru by asking myself three questions:  1) why is Mani Savsani a role model in my life? 2) What aspects about Mani Savsani do I strive to embody?  3) How is it that Mani Savsani has a constant smile on her face regardless of the circumstances of the environment that she's in?  For me it's a short meditation to get me realigned and to have my Guru show me direction, often times in the middle of darkness.  This alignment automatically creates solutions and a path no matter what I'm going through in my life.
So after following the "power of my intention" to connect with my Guru, I've found the true vision for my life which is to have everyone that I come across feel the same smile that I feel when I'm in the presence of my grandmother.  Year after year through one person followed by another the SavSani spirit will live on forever.

© 2011 SavSani