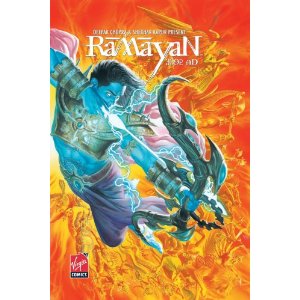 Take a hero with superpowers of the Gods, a beautiful princess, an army of monkeys and a demon-king with 10 heads who rules the 3 worlds – what gamer wouldn't want part of this action?
Seriously – why has no one developed one yet?  (Apparently, 3 computer science majors in Thailand created one in 2000 which won the nation's game software competition – Ramakien, as the Thai version is called – but it doesn't seem that it was ever marketed).
Then we got wind of Ramayan 3392 A.D. – a comic book series published by Virgin Comics in 2007.  Both Volume 1 and Volume 2 of the comic book are available on Amazon and there was much buzz around that time about Sony's plans to turn the comic into a super-duper online video game, but it has been silence since the initial press release.
There is also talk of a Ramayan 3392 A.D. movie – you can see a trailer here – apparently set to release sometime in 2011.
You would think such a film would be a instant success at the boxoffice – are we missing something?
Happy Ram Navami (tomorrow)!
Tags: ramayana