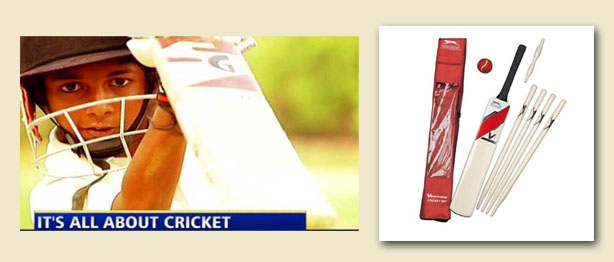 It's India vs. Sri Lanka in Mumbai tomorrow and the subcontinent is at a standstill.  Where will you be watching the match?
Cricket is played all over the world (in South Asia as well as in the UK, Australia and South Africa), and it's popularity in India needs no qualification.  Even with makeshift bats and balls, the game is played in almost every village and streetcorner – by kids and adults alike.
In the US and Canada, cricket is relatively obscure – with locals scratching their heads at the rules.  So here are some cricket resources for kids – and future fans perhaps –  of this understated sport:
Cricket Set for Kids by Slazenger, available in sizes 4, 5 and 6 via Cricket Equipment USA.
Rules of Cricket for Kids
Cricket Training and Summer Camps for kids in the New Jersey area with Howzat Cricket Camps.