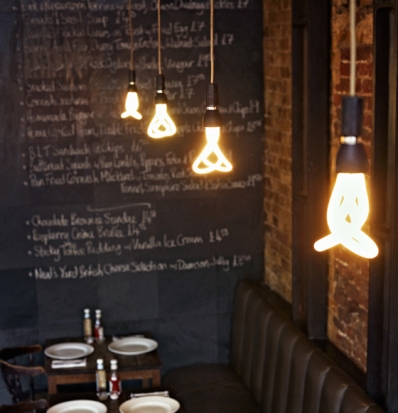 I remember at my grandmother's house in Andhra Pradesh – a small village with just a handful of modest homes – there was a single bulb affixed to the wall of the main room.  It couldn't have been more than 15 watts – but it provided just enough light for you to see where you were going (if the village had power at all that evening, of course).  We turned it on only when necessary and it was a big event when it needed replacement.  I loved that little bulb.
Perhaps that's why I'm drawn to exposed bulb pendants.  Some may call the look "industrial" or "vintage modern," but I just like them because they remind me of the comfort of my grandmother's house – and an in-your-face-reminder that energy was not something that was to be wasted.
And so in my search for lighting for the green home we are building, I was more than excited to find these amazing compact fluorescent bulbs by Plumen.  With many countries around the world (not the U.S., of course, never the U.S. on something like this…) phasing-out incandescents and mandating more energy-efficient lighting alternatives, Plumen has turned less-than-attatractive fluorescent tubing into art. 
They recently received the overall Design of the Year award by the Design Museum, London.  Priced at a (sort of) affordable £19.95, the bulbs aren't available in the U.S. yet – but I'll wait…anything to avoid those incandescents.