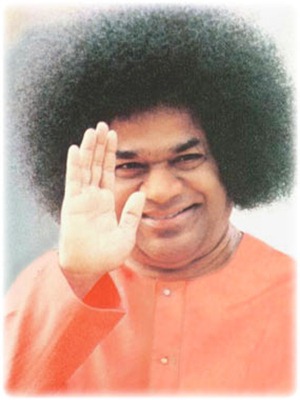 Wherever you stand on the issue of Sri Sathya Sai Baba, he was indeed an inspirational and iconic figure.  In my home state of Andhra Pradesh, where he was born – in the village of Puttaparthi – he was worshipped as a God-equivalent.
He directed many towards a path of goodness.  And if even just for this, he will undeniably be missed.
One of my favourite Sai Baba quotes is a simple one – but one that I believe is an irrefutable truth of parenthood:
A sapling can be helped to grow straight, but once it becomes a tree it cannot be guided in its growth.
Sri Sathya Baba will be buried today (yes, buried – as is the custom for those esteemed by Hindus as holy men) with full state honours, his body wrapped in orange clothes.
Image via sathya-sai-baba.org