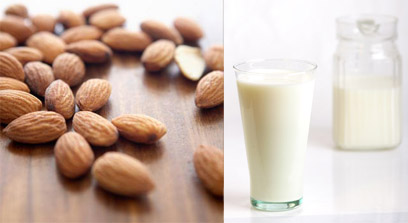 Almonds, or badam in many Indian languages, seem to be one of those superfoods.  They are reportedly heart-healthy, a great source of protein and beneficial for good skin and hair.  Ayurveda recommend eating 5-10 almonds every morning (without the skins) – as it is believed they provide important nutrients to the brain and nervous system.  Almonds, along with salmon, eggs and blueberries, also made Gaiam's list of Top 6 Foods that Boost Brain Power.
I'm trying to incorporate more almonds into our diet.  My mother makes a superb badam halwa, but it's not something we eat every day.  So I'm looking to that Indian comfort drink – badam milk – to add to our daily ritual.
First is to make a badam powder – which can be stored and used when desired.  The powder can be mixed with warm or cold milk.
Badam Milk Powder Recipe
1 cup almonds
1/4 tsp. fresh cardamom
1 Tbs. sugar
pinch of saffron (optional)
Soak the almonds for 2-3 hours, after which the peels will come off easily.  Pat dry and then dry roast them in a pan to remove all moisture.  Let cool  and then grind to a powder in a blender or coffee grinder, along with the remaining ingredients.
Tags: recipe