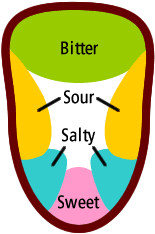 "Hey Mommy, salt is salty [insert cackle]," my son announced the other day.  I think he thought it was the best joke he'd made in a long while.
We had been talking about the different types of taste lately – sweet, sour, salty, bitter and spicy – and trying to identify them as we cook and eat.  Thankfully, he is an adventuresome eater who is curious enough to try anything – though he made the most adorably-awful face when he tasted raw grated ginger while we were making upma last weekend.  "Bitter!" he cried. 
As our family celebrates Ugadi today (the Telugu/Kannada/Konkan New Year, also celebrated by Marathis as Gudi Padwa), I'm excited to make our traditional Ugadi Pachadi (chutney) with the kids.  As I've done in the past, I have the kids taste each of the flavours before I mix them together (I do a "quickie" version – with jaggery (or brown sugar), lemon juice, salt, methi powder and red chili peppper).
This year, given my son's interest in tastes, I'll take the lesson to the next level by printing out a tongue map (pictured above) and trying out a Tongue Map Experiment I found at PBS Kids, though we'll be using our chutney ingredients instead.
And for the Telugu folks, take this Ugadi quiz for fun – Happy Ugadi!