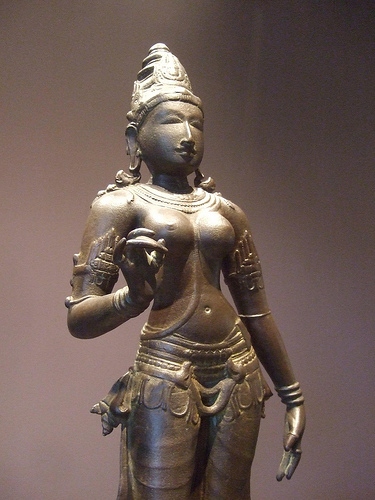 image via lierne, Bhudevi at the Norton Simon Museum
Mother Earth, or Mother Nature, seems to be a universal metaphorical figure.  The Greeks called her Gaia and the Romans called her Terra Mater.  In Hinduism, we call her Maata Bhoomi, or Bhudevi.
The Puranas describe her as the divine consort of Varaha – Lord Vishnu's 3rd Avatar – and she is also believed to be one of the two forms of Goddess Lakshmi (the other is Sridevi).  In fact, in many South Indian Vishnu temples, Lord Vishnu's statue is flanked by both Bhudevi and Sridevi.  Bhudevi is also considered the mother of Sita.  She is often pictured with dark (and sometimes green) skin, and with either 2 or 4 arms.
Bhudevi's Vedic precursor – Prithvi Mata (Sanskrit for Earth Mother) – seems to have been one of the oldest Aryan deities.  Vedic texts cited Prithvi Mata as a symbol of fertility, and considered her the source of all vegetation and other bounties of the Earth.
It's no wonder then that Hindus begin each day with a prayer to Mother Earth – a Morning Shloka that is to be recited before you put your feet on the ground (audio here):
                    Samudra Vasane Devi,
                    Parvatah Stana Mandale.
                    Vishnupatni Namastubhyam,
                    Paada-Sparsham Kshamasva Me.
O! Mother Earth, who has the ocean as clothes and mountains and forests on her body, who is the wife of Lord Vishnu, I bow to you. Please forgive me for touching you with my feet.

Beautiful, no?  Perhaps you can start a new ritual this Earth Day and have the kids recite this shloka – an homage to Bhudevi – because, really, every day is Earth Day!