We're still watching clips of the Royal Wedding, and my daughter perfects her princess wave while we do so – all the minor nuances of Kate's hand movements.  Honestly I did nothing to usher in the princess infatuation (she hasn't even watched a single Disney princess-y movie yet), but lately every headband is a tiara and requests have been made for a princess toothbrush and princess vitamins. 
And of course princess books.  Our collection right now is very limited (I censor for brattiness), but one of her favourites is her Princess Sita Book (also known as her brother's Scary Ravana Book) – a very brief Ramayana picture book.   Forget Rama, Hanuman and Ravana  – the Ramayana as far as she's concerned is all about Princess Sita:  "Princess Sita beautiful" (when she marries Rama), "Princess Sita scared" (when Ravana kidnaps her), "Princess Sita sad" (when she's imprisoned in Lanka) and "Princess Sita happy" (when Rama rescues her).
So this list is for all the little girls:  6 Indian Princesses who are not only beautiful beyond belief, but who are also intelligent, inspirational and legends in their own right.
1. Princess Sita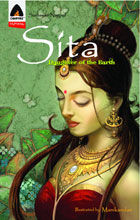 From:  The Ramayana
Her Prince:  Rama
Notables:  Daughter of Bhudevi and wife to Lord Rama, she's the embodiment of the ideal woman.
2. Princess Shakunthala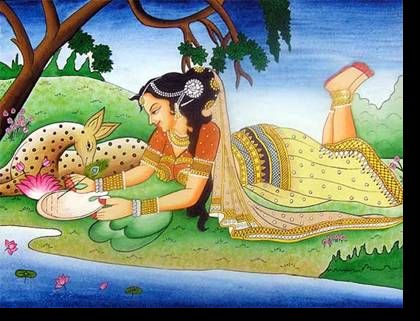 From:  The Mahabharata; also subject of a famous play by Kalidasa
Her Prince:  King Dushyanta
Notables:  She grew up in an ashram in the forest, surrounded by birds and nature, until one day a king spotted her while traveling.  It was love at first sight…
3. Princess Damayanti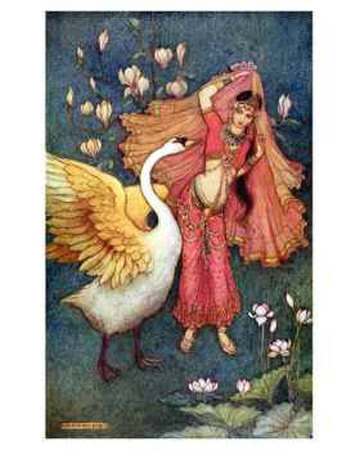 From:  The Mahabharata
Her Prince:  Nala
Notables:  One of my favourite princesses – and one that I've written about before.  So beautiful that even the Gods wanted to marry her…and so intelligent that she could outsmart them!
4. Princess Rukmini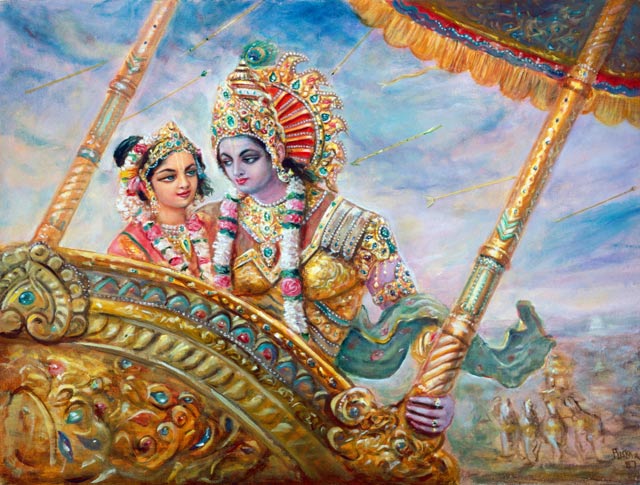 From:  The Mahabharata
Her Prince:  Krishna
Notables:  She convinced Lord Krishna to rescue her from an unwanted marriage – and Krishna was smart enough to let her take the reigns of the chariot.  See, the woman should always be in control!
5. Princess Subhadra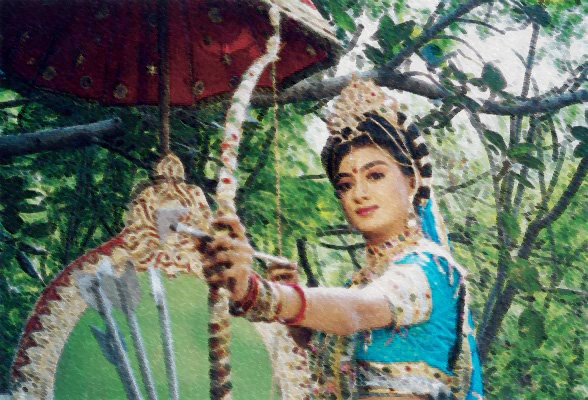 From:  The Mahabharata
Her Prince:  Arjuna
Notables:  When you are exceptional enough to captivate Arjuna (during his exile no less) – you make the list.
6. Princess Samyuktha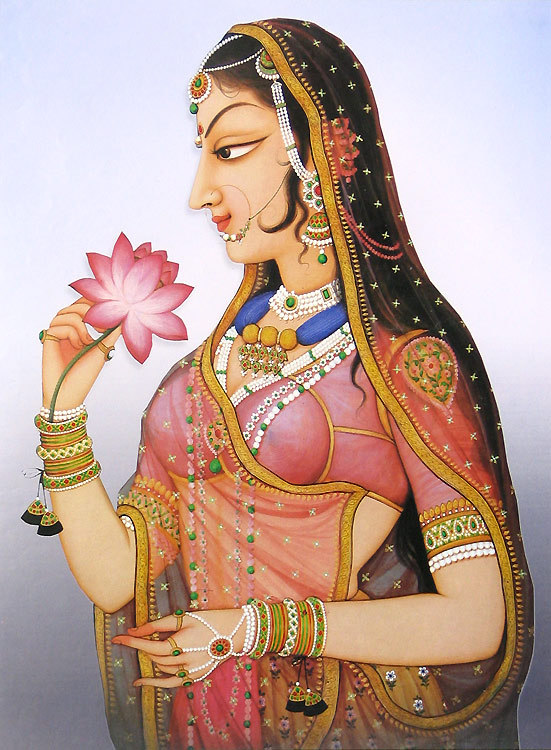 From:  A real-life Rajput princess
Her Prince:  Prithviraj
Notables:  Chief protagonist of one of India's most famous medieval romance stories – and one that eventually led to the end of Hindu rule in Delhi.
And what of Draupadi or Jhansi ki Rani?  I suppose I think of them more as "queens" – with stories perhaps a little too complex for the toddler set.  Just a minor qualification.
Images (top to bottom):  Google Images, Sita: Daughter of Earth (Graphic Novel), Artword, Damayanti and the Swan print from art.com, Yadukul, Google images, Rajput Princess print from dollsofindia.com