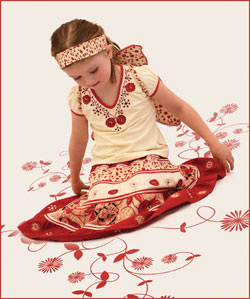 Tired of the same old, same old?  From Australia, France and the UK – here are 3 online boutiques with fresh, global styles for kids.  You won't be seeing any duplicates of these around the neighborhood!
Eternal Creation (above and below) is an easy Aussie favorite.  Their clothing is produced by Indian and Tibetan tailors in Dharamsala – guided by the principles of ethical standards and fair wages.  They carry colorful cotton clothing, sleepwear, hats and accessories for babies, kids and adults. 
Crisp, blue and coordinated boys outfit (AUD $21.71 – $44.96)
Simple ruffle hem nightgown and hairclips (AUD $7.46 – $26.21). 
As an added bonus, being from down under and all, their summer line is on sale!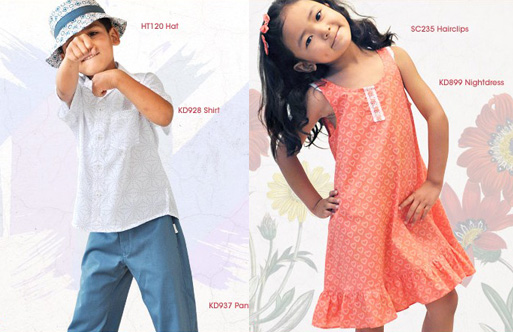 For French fashion pour les petits, as only the French can do – check out Smallable. 
Talc Bali Yellow Kurta (32,00 €) 
Poppy Rose Pepper Liberty Short Suit (70,00 €).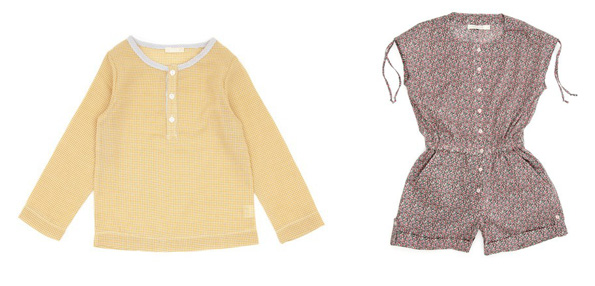 And of course, the UK's Monsoon always has something with international flair.  Left to right:
Beautiful for the beach:  Leila Kaftan Dress  (£22.00)
Poppy print Kimono Blouse (£20.00)
Reminscent of a beautiful organza net sari:  Lilly Print Dress (£55.00)