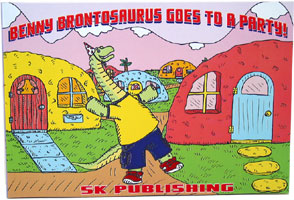 There's been a lot of press lately about Forks Over Knives – the new food movie claiming that a vegetarian/vegan diet is the answer to better health.  As expected, it's being lauded by vegan camps and dismissed by others as propoganda.
I'm happy that there is more education and awareness about vegetarianism these days – although I still meet plenty of people my age who hold their nose at the mention of veggie burgers.  Really, there's no need to attack the food I eat.
I'm old enough now to defend myself – but what about my kids?  Although my son has company in a handful of other vegetarians in his preschool class, I'm sure he will encounter veg-ignorance at some point (if he hasn't already).  To arm him with defenses, I naturally turned to books.  It was actually very difficult to find a quality book on the topic – most were either too gruesome or too preachy, with a message that killing animals is wrong and no one should eat them – NOT what I teach my kids.  I want them to know that different people believe different things, just like religions, and that people who eat meat are not "wrong."
The best I found was Benny Brontosaurus Goes to a Party! – a story about Benny (an herbivore dino) who gets invited to a T-Rex birthday party.  The text is very simple, but the message really hits home:  there are all kinds of dinosaurs (herbivores, carnivores and omnivores) and all of their food is delicious just the same.  Ty the T-Rex even joins Benny in eating a nut burger.
Slightly utopian, yes, but a good starting point.
Tags: vegetarian