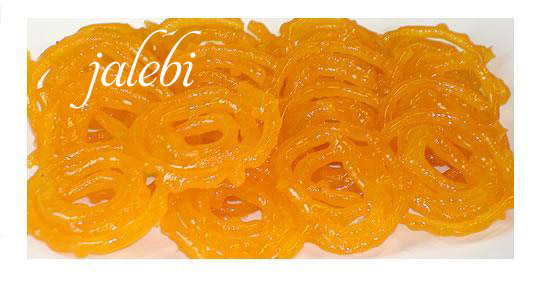 There are certain members of my family (yes, you know who you are) who are rather obsessed with Indian sweets.  So obsessed in fact that they could author an Encyclopedia of Indian Sweets – an effort which I'm sure would be greatly appreciated by food historians.  No surprise then that we recently resurrected an old family debate about the comparative tastiness of jalebi vs. jangiri – triggered in part by the kids' recent epiphany that these delectable orange swirly things are, most definitively, better than even the junkiest of donuts.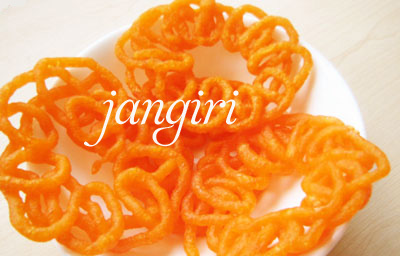 Most people have heard of jalebi – this ancient Persian sweet is popular at celebrations and street corners all over India.  But jangiri is a little more obscure.  I thought it was a sweet special to South India, but I have come to learn that it also has a presence in North India – called imarti.  Jalebi and jangiri both look like sugar-coated orange funnel cakes.
What is the difference you say?  First, they are made with different flours:  jalebi is made with maida (all purpose) flour and jangiri with ground urad dhal.  Jalebi batter is also supposed to be left to ferment (giving it a faint tangy flavour) while jangiri is not.  There is also a difference in their appearance – the swirls of jalebi are more chaotic, while jangiri resembles a more organized flower pattern.
Those with a trained palate will also notice the slight crunchiness of jalebi, distinguishing it from the chewy, gooiness of jangiri.  In most sweet shops, jalebi also appears a little shinier and more on the brown side (and jangiri more orange).
I am thinking it would be super fun at our next party to do a blindfolded taste test – to see who can distinguish between these two sweets.  Or have a sporting match:  Jalebis vs. Jangiris.
Which team would you be on?
Images via Google Images
Tags: food