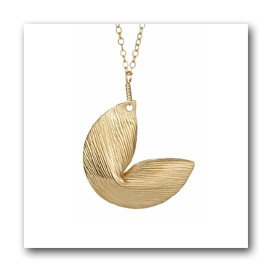 Good Fortunes Necklace by Emily Elizabeth Jewelry
Well if you're going to start something new, today is the day.  It's Akshaya Tritiya – apparently one of the 3 most auspicious days for Hindus (and also celebrated by Jains).  Many begin new businesses, buy valuables and schedule weddings and other celebrations on this day.
Akshaya Tritiya, as with any auspicious timing, follows the concept of muhurat – a precise calculation of time based on horoscopes, planetary position and the nature of the activity in question, among others.
Do you believe in the concept of muhurat?  Would your marriage or business fare better or worse if you started it on a particular day?  Is this superstition or a cosmic force that you'd rather not mess with?  What will your children think about muhurat (and more imporantly what will you tell them if they ask why some days are "good" while others are "bad"?).
Honestly, this is beyond my realm of comprehension.  Though, really, the Indian culture would suffer a serious void if mothers and grandmothers didn't go into a tizzy over finding a "suitable" date for any given celebration.
Ahhh….the fanfare.