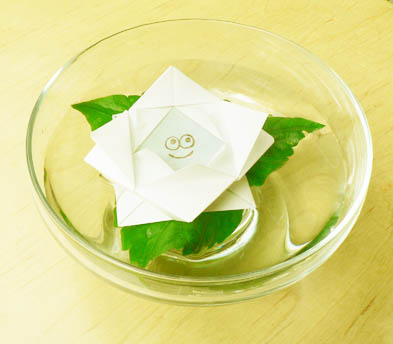 We've never properly introduced Pankaj – our adorable lotus-character logo.  The story is we just found him floating around in our papers, so we decided to adopt him into our happy home.  We suspect he's a distant great grand-nephew of Goddess Saraswati – the goddess of knowledge and learning.  Whatever his origins, he makes kids smile!
Why the lotus?  It was a rather obvious choice.  This beautiful flower is an important symbol in Buddhism, Jainism and Hinduism – representing Supreme Knowledge and total mental purity – ideals which we'd want to steer kids towards.
If you've been fortunate to receive a package from us, you know to expect that little orange envelope with a Paper Pankaj attached – our special gift of handmade whimsy that sets us apart from the average shop.
Paper Pankaj is very easy to make (and very fun for kids).  All you need is a square sheet of paper and a few minutes to view this video tutorial.
Happy folding!