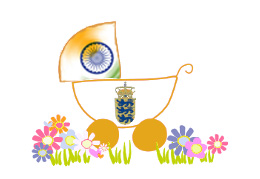 Curious?  We were, so we looked it up.  The following comes from Babycenter.in – the Indian counterpart to the immensely popular baby resource site.
The site reports that the trend for girls is towards unique names that are short and sweet – and that long, traditional names are "now passé."  For the boys, traditional Sanskrit names inspired by the Vedas, the Mahabharata, the Ramayana and by nature seem to be the focus of attention.
So here's the list – with meanings of the names (to the best of our ability) in parenthesis.
Top 20 Indian Baby Girl Names in 2010
1.  Ananya……(incomparable, unique, matchless)
2.  Sara……(most likely a short form for Saraswati, the Hindu Goddess of knowledge/learning)
3.  Aditi……(Goddess of the sky, Mother of all Gods)
4.  Riya……(graceful, singer)
5.  Jiya……(heart, soul)
6.  Saanvi……(Goddess Lakshmi, knowledge pursuit)
7.  Khushi……(filled with happiness)
8.  Anika……(Goddess Durga, beautiful, graceful)
9.  Anya……(inexhaustible, extraordinary)
10.  Anushka……(ray of light, lightning)
11.  Pari……(beautiful woman, fairy)
12.  Diya……(lamp)
13.  Navya……(fresh, modern)
14.  Sree……(Goddess Lakshmi, radiance)
15.  Kavya……(sonnet, poem)
16.  Avni……(the Earth)
17.  Prisha……(beloved, loving, God's gift)
18.  Aashi……(smile)
19.  Ahana……(day, first rays of the sun)
20.  Sahana……(Goddess Lakshmi, endurance, patience)
Top 20 Indian Baby Boy Names in 2010
1.  Aarav……(peaceful, calm)
2.  Aryan……(noble, kind, honorable)
3.  Krishna……(Lord Krishna, dark-blue)
4.  Arnav……(ocean, wave)
5.  Sai……(flower, everywhere)
6.  Aarush……(first ray of sun)
7.  Ishaan……(Lord Shiva, the sun)
8.  Neel……(blue, sapphire blue)
9.  Om……(primordial sound)
10.  Vihaan……(morning, dawn, beginning of new era)
11.  Pranav……(sacred symbol OM)
12.  Aadi……(first, beginning, most important)
13.  Atharv……(Lord Ganesha, the first Vedas)
14.  Rudra……(Lord Shiva, one who roars)
15.  Ayush……(long life)
16.  Arjun……(white, clear, son of Lord Indra)
17.  Abhinav……(fresh, innovative)
18.  Vedhant……(Hindu philosophy)
19.  Vivaan……(Lord Krishna, full of life)
20.  Shaurya……(bravery, heroism, valor)