Archive for June, 2011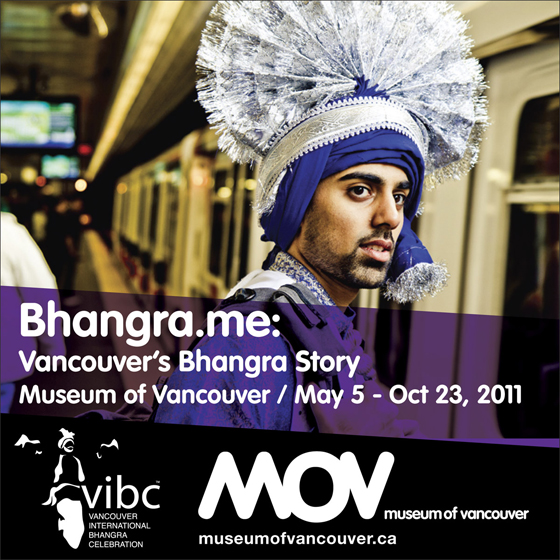 We just returned from a week-long vacation in Vancouver with friends and are wishing we could have brought that city's multi-cultural ethos home with us.  Of course the L.A. area where we live is one of the true melting pots in the U.S., but did you know Vancouver's Public Library (Main Branch) has signs in 6 languages – including Punjabi!
Yes, we took in the beautiful vistas and ate wonderful food – and in between it all there was bhangra.  We heard it in restaurants, cabs, music stores and on the Punjabi TV channel in our hotel room.  The Museum of Vancouver even had a groundbreaking Bhangra.me exhibit – an amazing display of photographs, archival video and of course music and dance that tells a universal story of the South Asian diaspora.  (If you're in the area, it runs until October 23 – don't miss it!)
Of course there is more to Punjabi music and dance than bhangra – but it's an element of Punjabi culture that my kids love.  One CD is enough liven-up a boring afternoon for hours!  No surprise then that when we were in Vancouver, it was the music that carried our days and our memories.  So this month "bha" is for "bhangra."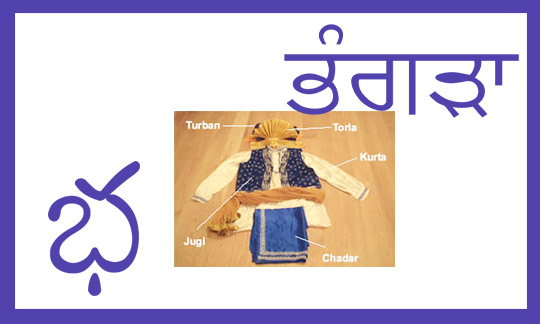 What started as a folk dance to celebrate the harvest is now a global phenomenon.  Check out this hilarious video from dance group Signature on Britain's Got Talent (it's NOT just Billy Jean, trust me):
There are even specialized bhangra classes for toddlers and beyond (including NamasteKidz in Los Angeles and NYC Bhangra in NY/NJ ).  And these little kids from the UK are simply adorable with their bhangra moves (click on image to play):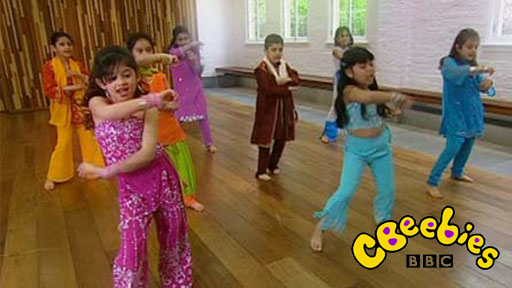 Images: Museum of Vancouver (top of post) and 4×4 Bhangra (figure re: parts of dress)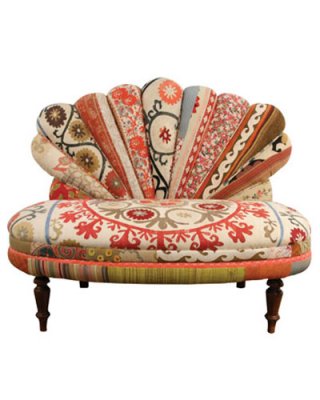 Beautiful things coming out of the Arab region:  check out these works of art by the Lebanese Bokja Design.  Vintage fabrics and modern silhouettes – each piece is enough to carry a room all by itself. 
The Peacock chair (above) – remind you of that long-lost Mughal Peacock Throne?
How woud you love to let guests lay down their coats on this bench: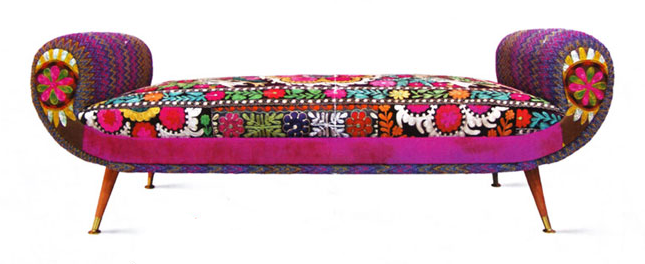 A chair-pair for any modern Indian home: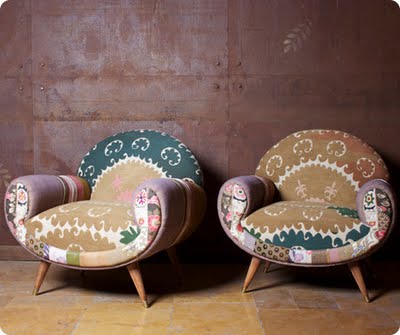 This would look stunning in a sitting room:

The Origami chair: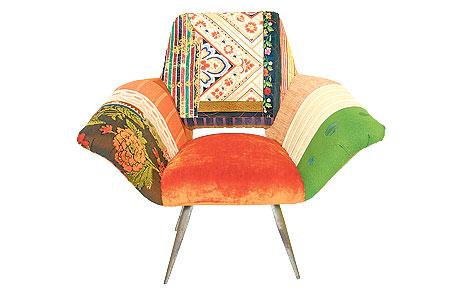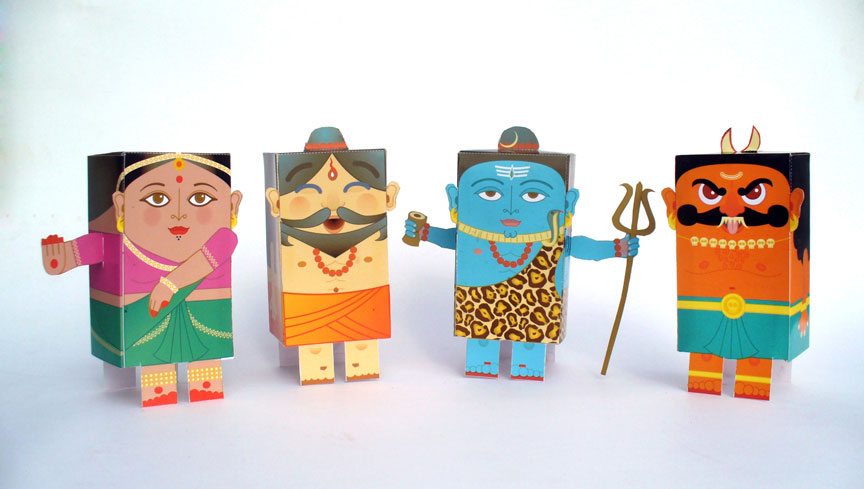 Who can say no to free paper toys?  We credit this stupendous find to Savsani.
So there are 4 characters:  the Bharatanatyam Dancer, the Yogi, Shiva and the Rakshasha – as conceived by Mumbai artist Mira Malhotra (who blogs at Etniq).  She describes Cut OK Paste as a side project which provides a relief from the daily grind.  She found it "most unfortunate that downloadable, printable, paper toys were all made by foreign artists and that no one had attempted making Indian characters."
Thank you for your amazing contribution Mira – sure to be a delight for kids and adult alike!
You can download the files here (look for the "Download File" at the upper right of the page – it's in an RAR compressed archive format, so you'll have to do a little research on how to open RAR files if you're not familiar with them).  You'll also need A4-size paper.
Image via Etniq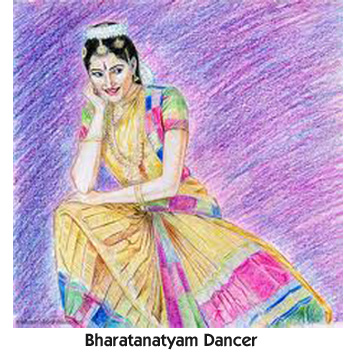 Can you distinguish a Kathak dancer from a Kuchipudi dancer? Pondering whether to have your daughter (or son!) learn an Indian classical dance?  Which one should it be?  We present here a brief primer.
You'll be interested to know that according to the Sangeet Natak Akademi (the national level academy for performing arts set up by the Indian Government) there are 8 Indian dance forms conferred with classical status.  Here they are (in no particular order):
1. Bharatanatyam
Origin:  Tamil Nadu
Dress:  Traditional costume has 3 fans of unequal length ( cascading between the legs)
Notes:  Considered to be the "fire dance" – where the dancer's movements mimic a dancing flame; soft and sculptured poses; accompanied by Carnatic music, it is considered a devotional dance – the embodiment of music in visual form
2. Odissi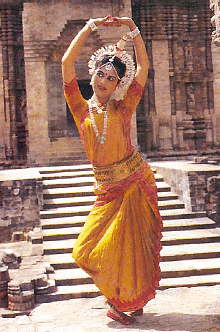 Origin:  Orissa
Dress:  The head piece (mahkoot) is unique to Odissi dance.  Dancers typically wear their hair in a bun and the headpiece consists of a flower-decorated backpiece as well as a longer piece that rises above the crown.  An elaborate silver belt is also worn.
Notes:  The concept of Tribhangi is a signature feature – it divides the body into 3 parts (head, chest and pelvis) and there are independent movements of these parts; accompanied by Odissi music
3. Kuchipudi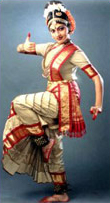 Origin:  Andhra Pradesh
Dress:  A single, long center pleat (between the legs); also has a katcham at the back and many times a side pleat
Notes:  More rounded poses as compared with Bharatanatyam; brisk movements; the Tarangam (where the dancer dances with feet set in a brass plate) is unique to Kuchipudi
4. Mohiniattam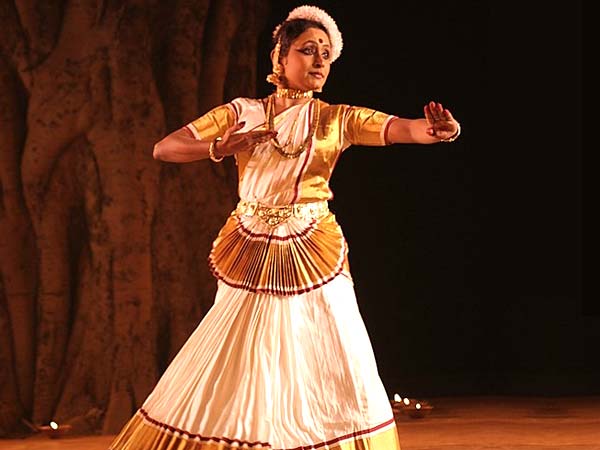 Origin:  Kerala
Dress:  White with gold brocade border; sari appears more skirted
Notes:  Mohiniattam litterly means "dance of the enchantress;" subtle gestures and sensual, coy eye movements; typcially performed as a solo recital by a woman; accompanied by vocal music, with lyrics being a mixture of Sanskrit and Malayalam
5. Sattriya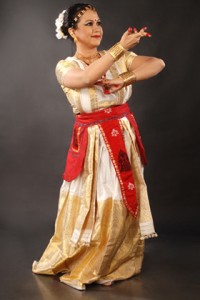 Origin:  Assam
Dress:  Resembles a saree, with the pallu worn in a criss-cross pleat at the front
Notes:  The dance usually depicts mythological stories; originated in the monasteries of Assam; can be performed solo or in groups
6. Manipuri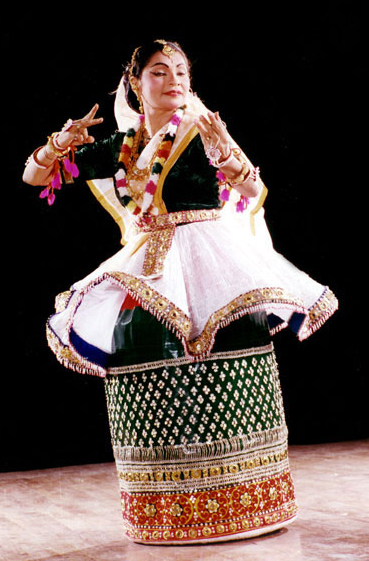 Origin:  Manipur
Dress:  A tubular lehenga layered with a transparent silk pasuan, along with a transparent odhini through which the dancer's facial expressions can easily be seen.
Notes:  The raslila (where Lord Krishna dances with Radha) is a central theme; delicate rounded movements where the dancers feet do not strike the ground hard; no ghungroos (ankle bells) are worn
7. Kathakali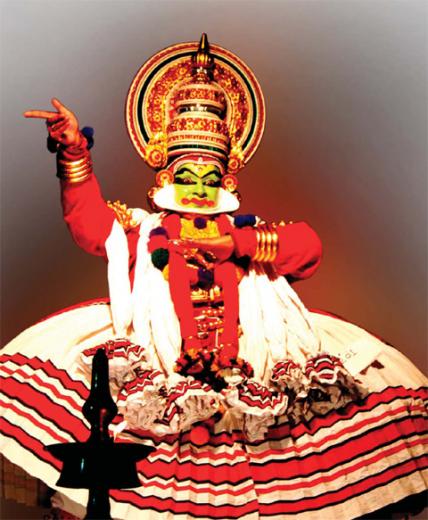 Origin:  Kerala
Dress:  Very large, heavy and elaborate, accompanied by painting of the face; there are 4 basic divisions:  Heros (characterized by green makeup), Villains (green face with streaks of red on the cheeks, or red or black faces), Females (basic pink or yellow makeup – no mask) and Superhumans (like Hunuman – may have a white beard).
Notes:  Kathakali literally means story-play or dance-drama; primary purpose is to narrate a story; the characters themselves never speak, but the perfomance is danced to musical compositions containin dialouge and narration
8. Kathak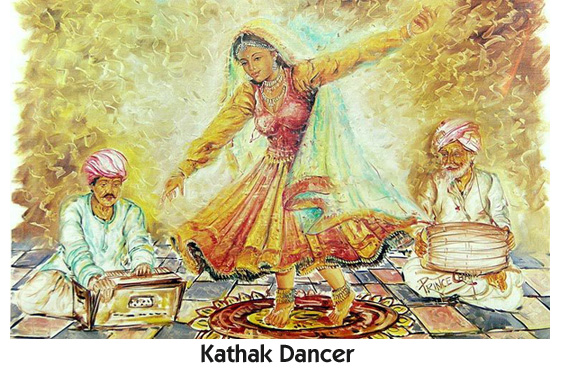 Origin:  North India
Dress:  There are 2 kinds of costumes:  a traditional lehenga-choli and a Mughal anarkali-style with a long skrited top and fitted chudidaar.
Notes:  Origins can be traced back to Kathaks (nomadic storytellers); dancer directly addressed the audience; slow and subtle movements along with vigorous footwork and pirouettes; performance starts off slow and progresses to a fast tempo, ending in a dramatic climax; 3 main gharanas (schools):  Jaipur, Lucknow and Benaras
Images via Google Images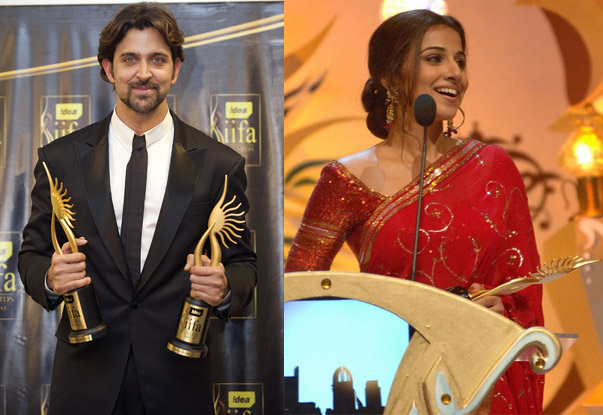 It's the Indian version of the Oscars and they're making their North American debut this year in Toronto.  Starting Thursday, from June 23-25, the city of Toronto will be the spotlight for Indians worldwide.  With a live audience of 25,000, the event is expected to draw 700 million viewers in 110 cities worldwide.  Unbelievable!
Initiated about 12 years ago, the International Indian Film Academy (IIFA) Awards has been held in a different city each year – from Johannesburg and London to Bangkok and Macau – perhaps a tribute to the truly global nature of Indian cinema.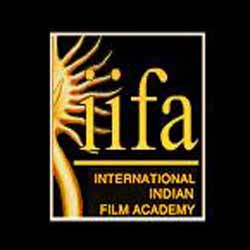 Last year the event was held in Colombo, Sri Lanka and 3 Idiots cleaned house – along with Amitabh Bachchan (Best Actor for his role in Paa) and Kareena Kapoor and Vidya Balan (tied for Best Actress for their respective roles in 3 Idiots  and Paa).  This year Once Upon a Time in Mumbai and Raajneeti seem to be favorites.
Tickets for the live event sold out 6 months in advance, but you can watch the event on Pay Per View.
If you're in Toronto (or travelling there), you may be lucky enough to catch sightings of Bipasha, Priyanka, Saif or Salman.  But for sure you'll be enveloped in the excitement.  As IIFA project head Noreen Khan puts it "There will be colour, there will be crowds, there will be mayhem."
A grand party indeed – as only Indians can do!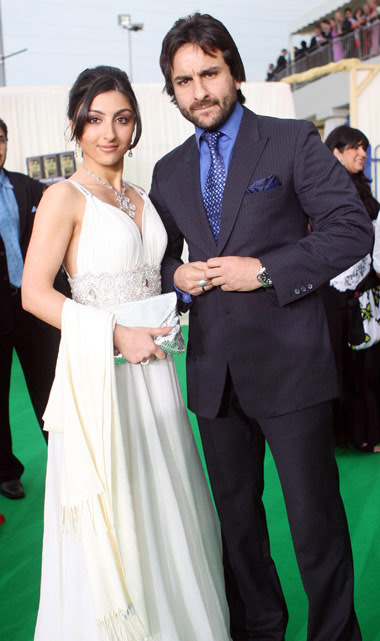 Pictured at the top of this post:  Hrithik and the Oh-So-Talented Ms. Vidya Balan.
Above, Saif and Soha walk the "Green Carpet."
All images via IIFA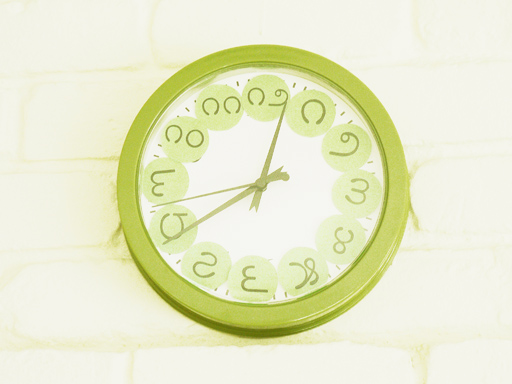 Did you have a secret code when you were little?
You may not have ever seen or learned the numerals in your Indian language.  But they do exist – and we thought it important to include them in our Bindi Baby Numbers books.  Why?  On principle perhaps – to retain the true form of the Indian scripts.  And with all the new evidence on the benefits of bilingualism (e.g. how the regular use of at least 2 languages sharpens the mind and, as a recent New York Time's article highlights, may even delay the onset of Alzheimer's) – the simple task of  learning a new way to write numbers is a terrific brain exercise!
So this month we're featuring Bilingual Clocks – a simple craft you can do at home with your kids to reinforce the content of our Bindi Numbers books.  Simply tape your own numbers to an existing clock – and the digits are sure to sink-in to everyone's heads eventually.  As an alternative to Indian languages, you can also use Roman numerals.  Whatever you choose, it's the exercise of alternative thinking that's important.
And, of course, learning new ways to write numbers is a perfect way for kids to devise their own secret code!
Featured above is a Clock using Telugu numbers.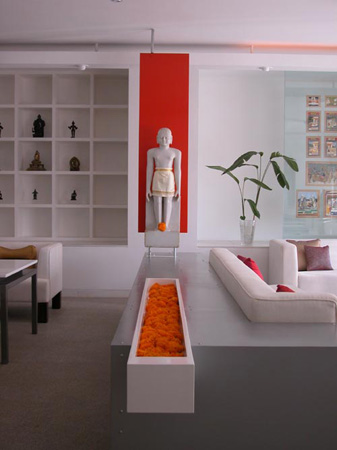 The inspiration for the home we are building:  India + Contemporary Design = Breathtaking!  Makes me proud that such beauty can come from India.  For more, check out Rajiv Saini's Gallery.
Talk about some serious Rupees (from a home in Mumbai):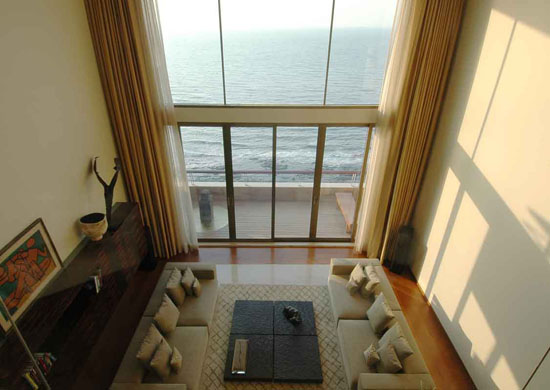 Gorgeous details (again, from a home in Mumbai):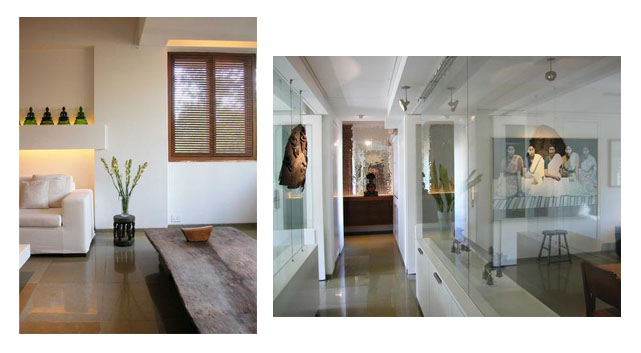 Sofa-scapes (from homes in Bangkok (left) and Mumbai (right)):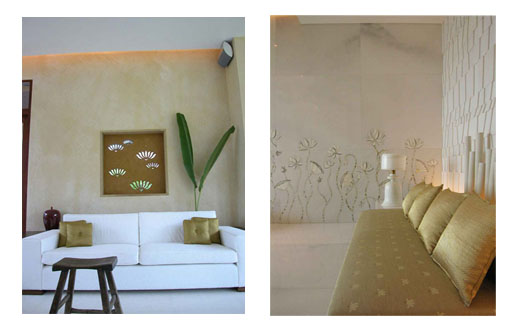 A remodel of an existing home in Hyderabad – seems to be one of his most recent projects: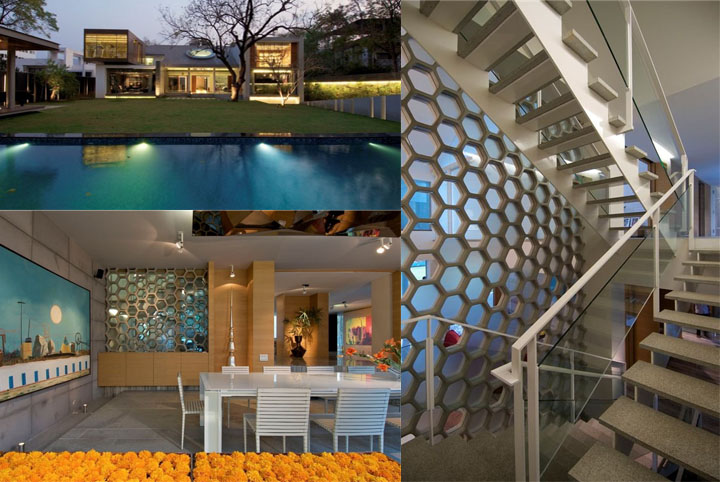 Images via Rajiv Saini & Associates; Hyderabad House: Photography by Sebastian Zachari – for more on this home, see feature in Contemporist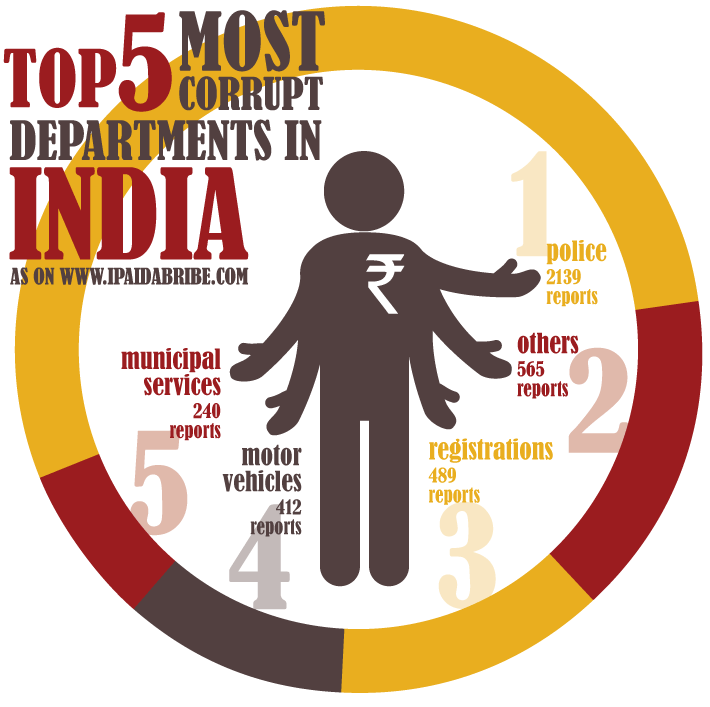 image via I Paid a Bribe
I still feel like there's a shotput in stomach whenever I think back to one of the worst days of my life:  my husband and I had just moved to Bangalore from the US and we had to go to the Bangalore aiport to claim some items we had shipped over.  The nightmare began as soon as we entered customs – you can't bring in this and this, actually you can't bring in any of this.  We only had books and a high resolution computer monitor – but they were medical books that my husband needed for his work – so of course their eyes were bulging rupees.
I don't remember the exact amount of the "facilitation fee" we ended up paying – I think around 50,000 rupees (gulp!).  But I do remember feeling utterly powerless and completely helpless.  I even cried from fear when I was seperated from my husband for a brief moment (these men were obviously "above the law" so you can imagine what I was thinking…).
Corruption in India is the single reason I never felt safe living there.  Because, apparently, you can even get away with murder (see the Jessica Lall Murder Case, as dramatized in this year's critically-acclaimed film No One Killed Jessica).
But there seems to be a new wave of hope sweeping over India – a grassroots movement in favour of empowerment of the people.  The movement is fueled in part by the leadership of Anna Hazare and by social media.  Check out www.ipaidabribe.org – a website where people can anonymously report incidents of corruption and tell the world what department was involved, the circumstances and how much they were forced to pay.  Genius!
Wherever you are in the world, I urge you to take part in this movement:  Join the Facebook pages of India Against Corruption and of I Paid a Bribe and spread the word to your friends and family.  If you live or travel to India and are forced to "pay up" – report it on IPaB.  As members of the Indian diaspora, we can help India be free and independent from corruption.  The web and social media makes it easy for all of us to have our voices heard.  And the strength is in the numbers:  India (finally) ratified the UN Convention against Corruption last month.
Gandhi gave the world Satyagraha.  India is now on the brink of breaking free from another captor – in a novel way that could yet again set an example for the world (Chinese activists have already copied IPaB's model).  So, please, join the Anti-Corruption Movement – it is real, it has a leader and it's gaining speed fast.
We owe our children a corruption-free India!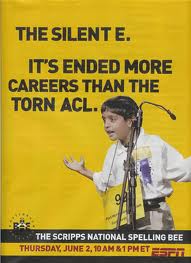 "So why are Indian parents so into spelling bees?"  This was the question one of my friends (she's Japanese) posed to me a few weeks ago.  Normally, I despise broad generalizations – but in this case it was so true.   I didn't really know what to tell her – it's like asking Chinese or Korean families why they insist on having their kids play piano or violin.
Really though – winning spelling bees has become a matter of pride in our community.  According to the Deccan Herald, even though Indian Americans make up only 1% of the US population, they dominate the spelling bee circuit.  Eight of the past 12 Scripps champs (well, now 9 out 13) have been of Indian descent.  We even have our very own exclusive South Asian Spelling Bee – started by the founder of the North South Foundation and sponsored by MetLife.  Imagine the stress level for those kids!
Some people criticize spelling bees – saying the immense amount of pressure to perform is detrimental to a child's development, and that they don't teach kids anything beyond the mere spelling. 
Will I have my kids do spelling bees?  I'm not sure – but I most certainly want them to compete in something that they are talented in  – be it sports, music, writing or something else.  Competition is thrilling, motivating and a fact of life.
Congratulations, Sukanya Roy – I hope you and others will inspire the spirit of competition in other South Asian kids!
Image via ESPN (2005)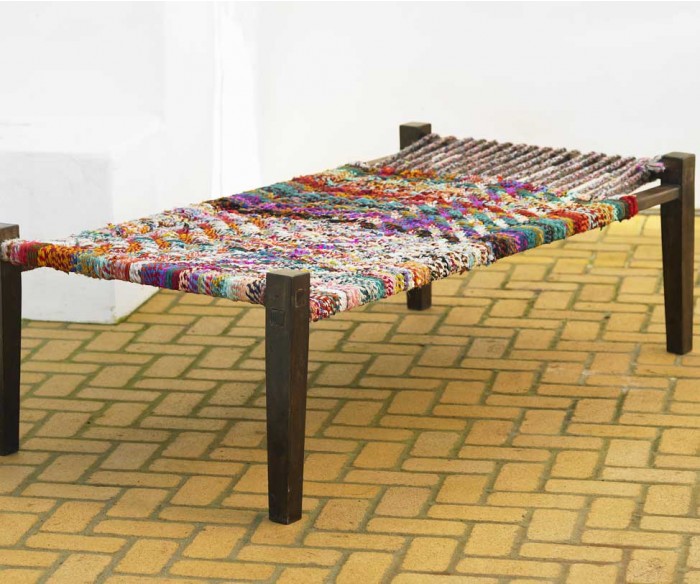 The inspiration for this post I will have to credit to Designwali's Village Decor post.  She came across VivaTerra's Charpoiye Daybed – and when I read her post, I was flush with memories of my Ammamma's (grandmother) village.  Charpoys are woven beds, with cotton ropes interlaced around a wood bed frame.  They are found all over India and the rest of the subcontinent – especially in the villages.  In Telugu, we call them nawaar mancham and at my Ammamma's house, she would store several on the verandah.  We'd carry them into the front yard at dusk – and sleep on them under the comfort of the stars.  No mattress is necessary – each mancham naturally takes on the shape of the person sleeping on it, creating a cupping effect much like a hammock.
So now I am determined to have a charpoy (or 2) in my house!  Although, at the prices they are going for, I'm tempted to call my uncle in Andhra and have him do some packing!
Above and below, VivaTerra's Charpoiye Daybed.  $475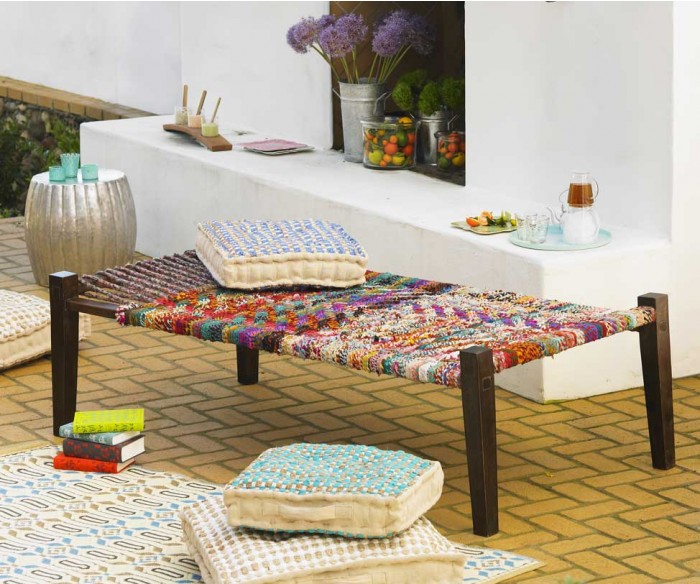 Charpoys in the UK:  Ashoka Charpoy by Jagamanja.  £560.00
Charpoys in France:  Custom by Ouma Productions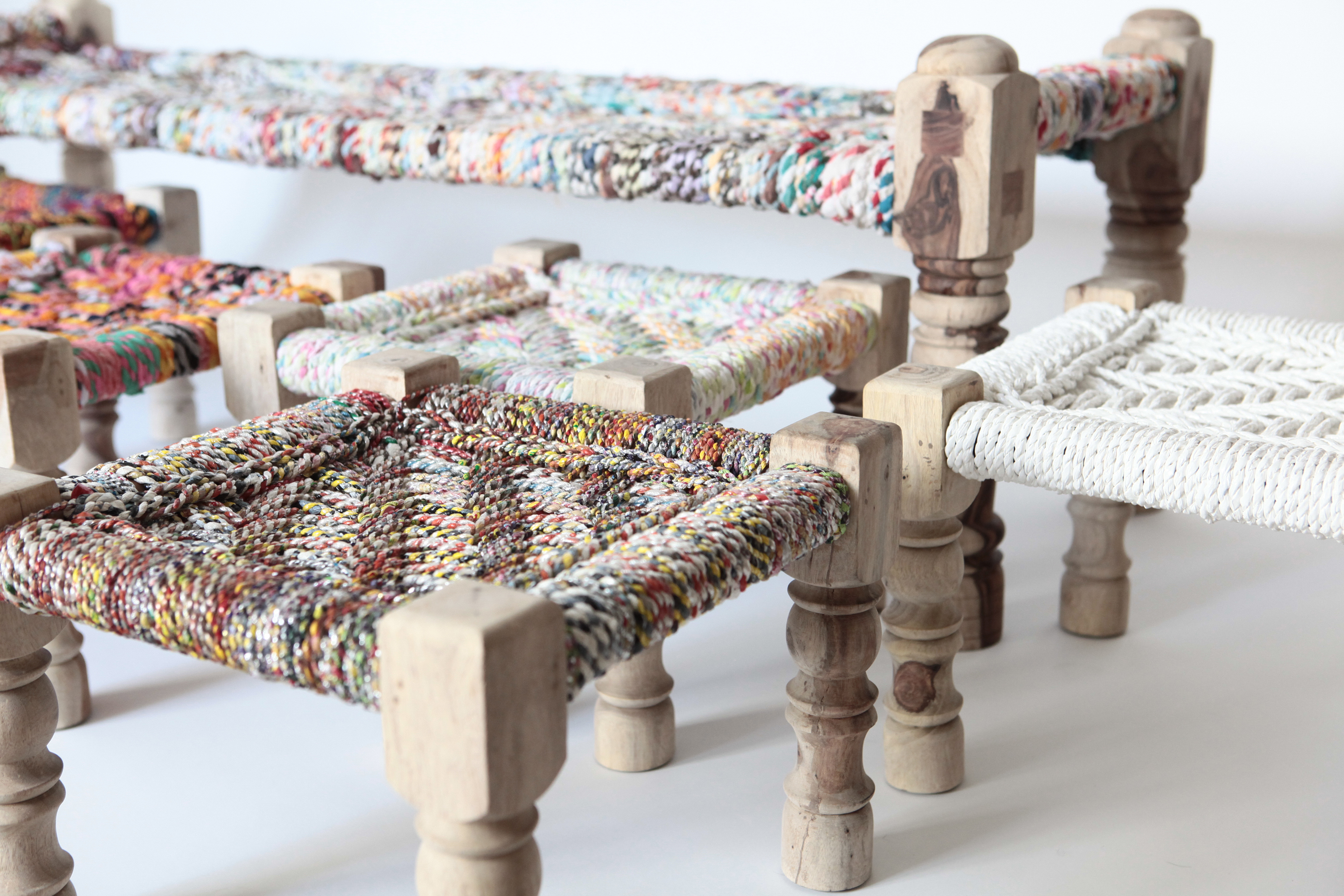 Love this concept for the backyard.  Beautiful charpoys from Stringbedco (they're in Malaysia though!).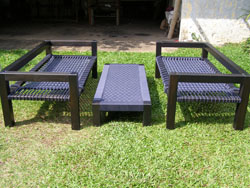 More from Stringbedco: