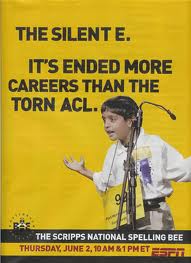 "So why are Indian parents so into spelling bees?"  This was the question one of my friends (she's Japanese) posed to me a few weeks ago.  Normally, I despise broad generalizations – but in this case it was so true.   I didn't really know what to tell her – it's like asking Chinese or Korean families why they insist on having their kids play piano or violin.
Really though – winning spelling bees has become a matter of pride in our community.  According to the Deccan Herald, even though Indian Americans make up only 1% of the US population, they dominate the spelling bee circuit.  Eight of the past 12 Scripps champs (well, now 9 out 13) have been of Indian descent.  We even have our very own exclusive South Asian Spelling Bee – started by the founder of the North South Foundation and sponsored by MetLife.  Imagine the stress level for those kids!
Some people criticize spelling bees – saying the immense amount of pressure to perform is detrimental to a child's development, and that they don't teach kids anything beyond the mere spelling. 
Will I have my kids do spelling bees?  I'm not sure – but I most certainly want them to compete in something that they are talented in  – be it sports, music, writing or something else.  Competition is thrilling, motivating and a fact of life.
Congratulations, Sukanya Roy – I hope you and others will inspire the spirit of competition in other South Asian kids!
Image via ESPN (2005)