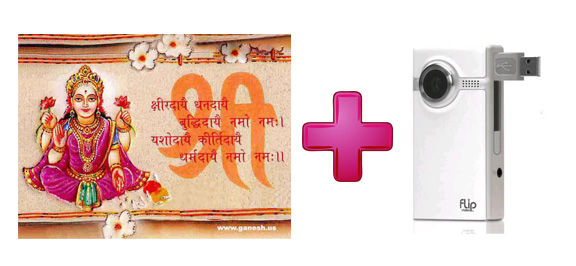 You've probably heard of some of these Hindu prayer iPhone apps apps floating around:  iPuja ("Need to pray on the go?") and iMantra (even keeps track of the number of mantras you've said).  I was meddling with them to see if any of them could help my 5-year-old remember the mantras I've been teaching him.  Not really – too complicated for him to find the few he knows – and why hand over custody of the phone to him?
My vision was quite simple:  since mantras are best learned by hearing them over and over (and over) again, I wanted to create a utility through which he could press a button to select among 5 or so images of Hindu deities, and the corresponding mantra would play.
So I've undertaken to DIY such a utility via my FLIP video recorder.  I focus the camcorder on an idol or image of a deity (Ganesh, Lakshmi, Vishnu, Krishna, etc.) and record the mantra in my own voice, along with a (very) brief explanation.  He can scroll through the images and listen to Mom reciting mantras for him.
Best part is he can listen even when I'm not there!
Image of Lakshmi Devi via ganesh.us