I met an Indian from Mauritius once .  I can't recall exactly when or where, but I do remember scratching my head and coming home to consult my atlas.  I wasn't sure exactly where Mauritius was.  (It's an island just east of Madagascar.)
Turns out 68% of the population of Mauritius is of Indian descent (according to the 1997 census) – a surprising number most likely due to the fact that the island was a fromer British colony.  In fact, the current Prime Minister of Mauritius – Dr. Navin Ramgoolam – descends from Bihar and is a Hindu.
The main languages are Mauritian Creole, English and French and the government mandates that all students also study an "oriental language" such as Hindi, Urdu, Telugu, Tamil, Marathi or Chinese.
I'd certainly want to explore this Creole-French-African-Indian island paradise (and stay and spa at the The Oberoi Mauritius – pictured above).  I can only imagine what tasty fusion food could be found there:  French Indo-Chinese perhaps?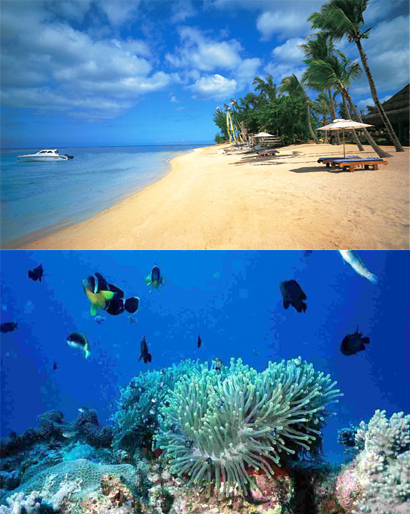 Images via The Oberoi Mauritius