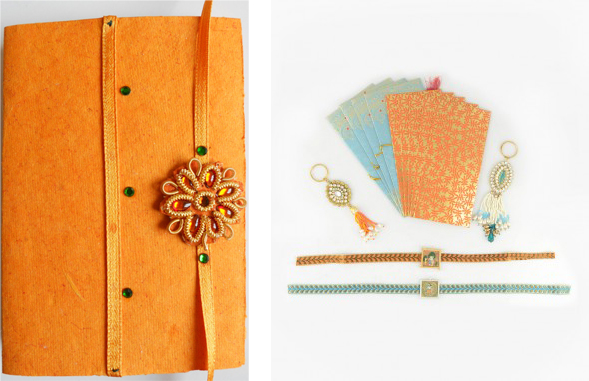 Raksha Bandhan is a beautiful holiday that celebrates the love and friendship between a brother and a sister – and, as is the trend, between friends in general.  This year, Raksha Bandhan falls on Saturday, August 13th – just about 10 days from now.  So be sure the kids are Rakhi-ready to make the celebration extra-special this year!
1.  Explain:  First and foremost, explain to your kids what Raksha Bandhan means and why it is special – that it's about friendship and love and also a pledge of protection.
2.  Make a Rakhi-list:  Have your kids include not only siblings and cousins, but also friends and neighbors they may be close with.
3.  Prepare rakhis and cards:  The tradition is for girls to tie rakhi (bracelets) around boys (or to send them in the mail if they live far away).  The boys then give gifts to the girls.  Although you can pick-up rakhis and cards at your local Indian grocery store or online, this is an opportune time to get crafty:
a.  Have kids hand-make cards.  You can use paints, stamps, stickers and embellishments.  Encourage them to think about each recipient's interest.  For example, if their cousin likes dinosaurs, make that the theme for the card.
b.  Remember to be age-appropriate with the rakhis.  Small beads may look great, but they are not suitable for young children.
c.  The rakhi is traditionally supposed to be sacred and made of silk, gold and silver threads and/or small jewels and sequins.  But who says you can't think outside the box?  Try making rakhis with natural materials like hemp twine, flowers and small berries.  These will dry beautifully for a special keepsake.  Also, if you have very young children, what can be more sacred than edible rakhis – especially when made with yummy candies or dried fruit!
d. For gifts, again encourage children to think of the recipient.
4.  Deliver:  If you plan to see the recipient on or before the holiday, you can deliver the rakhi/gift at that time.  Otherwise, send it in the mail.
If you are able to celebrate Raksha Bandhan in person, you can make it festive by getting dressed up, doing a small puja with the kids, followed by an aarti and then the rakhi-tying and gift giving.  Kids can then feed each other sweets and you can take pictures.
There's only a few days left – so get Rakhi Ready!
Images:  Top of post (left):  kundan-zardosi handmade rakhi with matching note card by Aboli; Top of post (right):  rakhis and envelopes gift set via Exclusively.in (expires soon).  Below, handmade Friendship Bracelet from Bangladesh via Ten Thousand Villages