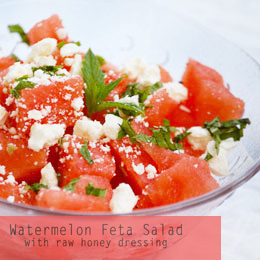 This post is authored by Sheena Patel – founder of wellness boutique Savsani. Sheena has taught classes in positive psychology at Massachusetts Institute of Technology, yogic principals at Harvard Business School and stress management at Massachusetts General Hospital. Savsani offers comprehensive wellness programs for individual and corporate clients.
As the final days of Summer approach, we thought we would share some of our favorite recipes for keeping cool in the heat!
Watermelon Feta Salad with Raw Honey Dressing (pictured above)
Ingredients:
1/4 cup cubed feta cheese
1/2 medium sized watermelon, cubed
1 tsp. of raw honey
2 limes, juiced
dash of salt
handful of mint leaves, julienned
Mix together the juice of limes and the salt together.
Add the watermelon and the feta to bowl and toss until watermelon and feta are coated with dressing.
Garnish with mint leaves.
Citrus Salad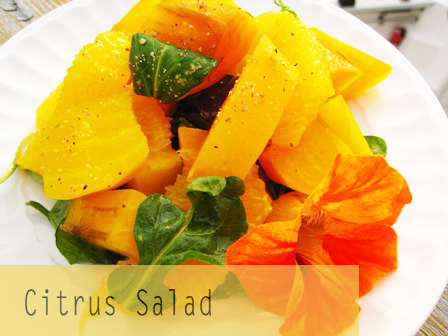 Ingredients:
3 Valencia oranges, sectioned
(Dressing):
2 Tbs. of almond butter
3 Tbs. of olive oil
1 Tbs. of raw honey
1 lime, juiced
Take all the ingredients for the dressing and heat in a saucepan.  Bring to a boil.
Take off heat, add to oranges and enjoy!
Virgin Mojitos, SavSani Style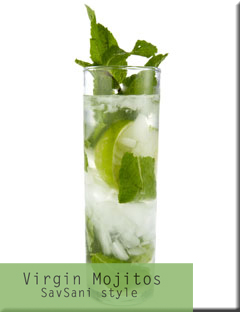 Ingredients:
3 limes, juiced
1 tsp of simple syrup
4 oz. crushed ice
8 oz. tonic water
handful of Thai basil
In an 8 oz glass, mix the juice of three limes along with the simple syrup and the Thai Basil and muddle together. Add tonic water and enjoy!

© 2011 SavSani
www.savsani.com
sheena@savsani.com
Images via Google Images