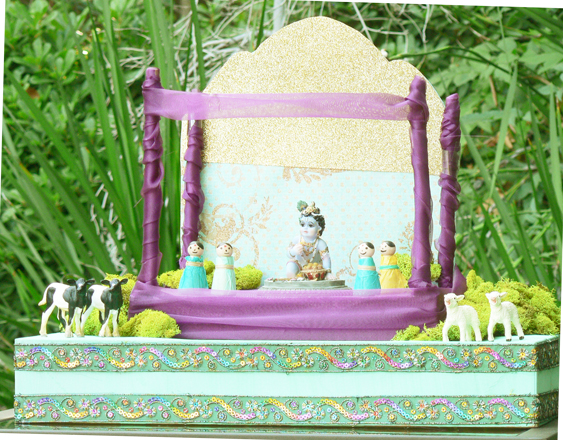 What does Lord Krishna inspire in you?  Joy?  Complete devotion?  Or perhaps he is a supreme symbol of hope – the lifeblood of human existence?
Sri Krishna Janmashtami is on August 22nd this year – and it's a time of colorful celebration and cheer throughout the world (check out our post last year on The Global Gopi).  Crafting diorama displays of Krishna's life is a popular activity in homes and temples.  This month, we challenge you to create your own diorama with your kids!
Start by having the kids pick their favorite Krishna story and then a specific scene from that story (for inspiration, scroll down this gallery).  Then, gather supplies from your garage, playroom or from a visit to a craft store.  Get the kids involved as much as possible, although fine detailing may require adult hands.
The scene we picked was of Krishna stealing butter.  We used old boxes, paint, craft ribbon, wooden poles, sheer fabric and cardstock to create the basic alter.  We adorned the alter with moss, toy animals and a Krishna figurine.  We also made dolls from wooden pegs found at a craft store – and dressed them up in tissue paper "sarees" – a big hit with the kids!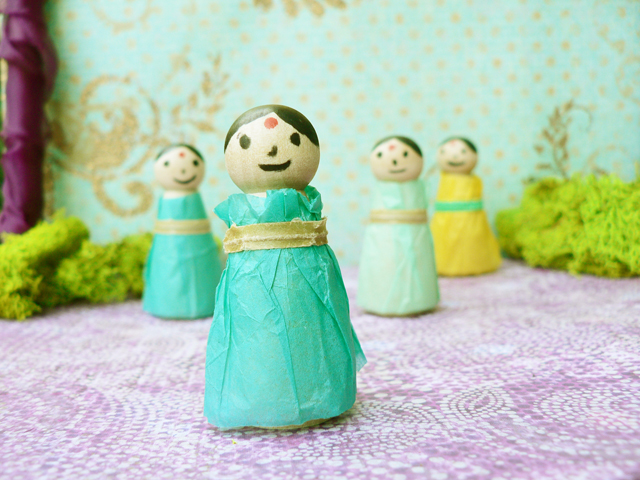 Did we inspire you to make your own?  Start now and slowly build your diorama – so you can display it with pride throughout the month of August!